Dennis Quaid sues over defects in Austin mansion
Lawsuit says sellers of lakefront estate failed to disclose problems with water intrusion, rats and remodeling done without permits. The sellers disagree.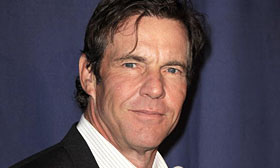 Paying a lot for a house apparently does not ensure it's in good shape, or even in livable condition.
Actor Dennis Quaid and his wife, Kimberly, are suing the sellers of the Austin, Texas, mansion for which they paid an undisclosed number of millions in February. They allege the sellers misrepresented the condition of the house and are asking for their money back, as well as additional damages and attorney fees.
Post continues below
According to the lawsuit, the home suffers from water intrusion and related damage, remodeling projects that were done badly and without permits, and a rat infestation.
The problems are so bad, according to the Quaids, that they cannot live in the house and have been forced to rent another home in Austin. 
The Quaids moved to Austin to be nearer to the actor's mother, who is in a retirement home there. Dennis Quaid is from Houston; his wife is from Austin.
It's not known how much the Quaids paid for the two pieces of property that make up the estate, but the main house was last listed for $12 million. It's a six-bedroom, eight-bath house, with 11,103 square feet on just under half an acre. It has a pool, outdoor fireplace, wine room and secured vault, plus 100 feet of lakefront.
The house was built in 1970. According to the listing, it was "remodeled in 2007 using the finest finishes and materials." The second piece of property includes a boathouse and a helipad.
The Real Estalker has photos, as does Candy Evans at Candy's Dirt.
The sellers were Blake and Monica Byram, who are well-known in Austin. Their lawyer told The Austin American-Statesman that the Byrams "don't agree with the allegations" and are negotiating with the Quaids, whom they consider friends.

Guess the Quaids are some how at fault?, its called disclosures, the realtor are supposed to disclose any and ALL problems associated with the property and guess they did not, now really is its the Quaids fault, Sure they knew and spent Millions to buy this property, don't think so since its obvious they were not aware of these problems. People just don't think before they comment, they seem to have that know it all attitude and guess what they don't know squat ......

You people need to have your heads examined, when you pay 12 million dollars for a house it's not supposed to have rats and leaks!

Saying Denis is wrong is out of line, 12 million should buy you a decent home, it just goes to show you how greedy Wall Street and the Banks are. You people are sticking up for the thieves not the guy buying the house.
I'm surprised no one has blamed Obama yet for the houses condition.



Remodeled 1970 home?  We owned a 1978 home that we thought we would "remodel". Having a well known custom home builder look at what we wanted to do with the remodel, they came back with the figures. Over $500,000, 6-8 months construction, permits over $6000.00, tons of live in grief such as dirt, dusty air, noise and other inconveniences. They said when the remodel is complete, you will have a 1978 remodeled home. Half new and half old.
We had them come back with figures to tear down the old home and build new keeping up about 30 feet of old walls. Five months to tear down and rebuild new home. Total cost to teardown and build as well as increasing square footage by 1800 square feet was $640,000. We now own a 4000 square foot home with all current building codes. Home was recently appraised for $850,000. The home is a 2009 and not a 1978 year built. If we sell, it will be listed as a 2009 new build.

Where did personal responsibility go, Quaid, whose work I admire, is an intelligent grown man and he should be capable of making his own decisions on purchases  and then accepting the results!  This constant litigation, encouraging the habitual use of contract inspectors just screws up the system and unnaturally drives up home prices! Many of these so called expert inspectors are just as incompetent and crooked as the realtors, bottom line take responsibility for your own actions!

Are you sure you want to delete this comment?
FIND YOUR DREAM HOME OR APARTMENT
msn real estate is social
WHAT'S YOUR HOME WORTH?
HOME IMPROVEMENT PROFESSIONALS
more on msn real estate