Bank to rent homes to former owners
Pilot foreclosure-alternative program offers some homeowners a chance to rent for three years in exchange for signing over their homes. Is it a good deal? It depends.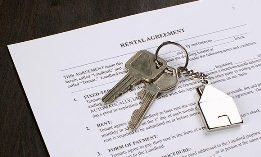 Underwater homeowners who are struggling to make hefty mortgage payments often think longingly of leaving the home and renting the place across the street for a lot less money. Some have probably done that.
Now Bank of America is trying a pilot program in which it will let homeowners facing foreclosure give their homes to the bank and then rent for up to three years at a lower monthly cost.
The bank has offered its new "Mortgage to Lease" program to about 1,000 borrowers in Nevada, Arizona and New York. If the program is successful, it may be rolled out in other areas.
To participate, borrowers must be at least 60 days behind on their mortgages, be underwater and have exhausted their mortgage-modificatio​n alternatives. In addition, they can't have second mortgages and they must earn enough money to pay rent. Plus, the loan must be owned by Bank of America.
"This pilot will help determine whether conversion from homeownership to rental is something our customers, the community and investors will support," Ron Sturzenegger of Bank of America said in a statement. "If this evolves from a pilot into a more broadly based program, we also see potential benefits from helping to stabilize housing prices in the surrounding community and curtail neighborhood blight by keeping a portion of distressed properties off the market."
Homeowners can't apply for the program. If you qualify, Bank of America will contact you. Fannie Mae has a similar program, though it is not widely used.
Whether the program is a good deal for homeowners is likely to depend on a homeowner's individual circumstances. If you have a few years to go before your kid graduates from high school, for example, being able to stay in your home and then move to a cheaper neighborhood later might be a good deal. Others might be better off moving on quickly.
Whether the program works for either the bank or the former owners also will depend on how well landlord-tenant relationship goes.
The program likely is a good deal for Bank of America, which may be banking on home values rising in the next three years. Not only does the bank avoid the cost of bringing a foreclosure, it will earn more money when the home is sold.
"Banks are not necessarily interested in putting REO (real estate-owned) homes on the market for sale at this point," Linda Rheinberger, who manages about 250 rentals, told The Las Vegas Review-Journal. "They're interested in return on investment on performing assets in their portfolio or waiting until market conditions change. Rather than accept a loss, they're hoping that time will cure some things, and meantime they have a decent return on investment." 
About Teresa Mears
Teresa Mears is a veteran journalist who has been interested in houses since her father took her to tax auctions to carry the cash at age 10. A former editor of The Miami Herald's Home & Design section, she lives in South Florida where, in addition to writing about real estate, she publishes Miami on the Cheap to help her neighbors adjust to the loss of 60% of their property value.
msn real estate is social
FIND YOUR DREAM HOME OR APARTMENT
WHAT'S YOUR HOME WORTH?
HOME IMPROVEMENT PROFESSIONALS
from our partners