Is that a mansion? No, it's a McDonald's
Long Island residents' push for preservation saved a historic house and led McDonald's to design an unusual store.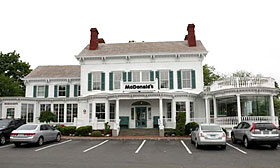 Many of us have enjoyed a meal in a restaurant that was converted from an old home. But most of those meals didn't include Big Macs or any other fast food.
In New Hyde Park, N.Y., on Long Island, you can eat your McNuggets and fries in splendor, in a mansion that dates to 1795 and has been converted to one of the nation's most attractive McDonald's restaurants.
The architectural gem was spotted by Nick Carr, a film location scout who posted a number of interior and exterior photos on his blog, Scouting NY.
Post continues below
He also tracked down the story:
Known as the Denton House, its bones date back to 1795, when it was constructed as a farm house by one Joseph Denton, a descendent of the founder of the village of Hempstead. In 1860, it was given a Georgian makeover, complete with gingerbread ornamentation, and throughout the 1900s, found commercial use as a funeral home and a series of restaurants.
By 1986, the building was abandoned and in bad shape. When McDonald's bought the property, the restaurant owner intended to tear the building down and build a traditional McDonald's restaurant. But citizens got the building declared a historic landmark.
Based on an old photo, McDonald's restored the home to the way it looked in 1926.
The inside of the house was gutted, and Carr was less impressed with the results. Still, from his photos I can see it looks more interesting inside than a typical fast-food restaurant. Yes, it has a drive-through.
While a fast-food restaurant inside a historic home is unusual, it's not unheard of. In urban areas around the world, restaurant chains have had to adopt their traditional design to fit into historic buildings. The Guardian newspaper has 10 photos of fast-food restaurants in unusual buildings, including McDonald's outposts in Ireland, Portugal and Poland.
Have you ever seen a fast-food restaurant in a repurposed old building? Was the
atmosphere nicer?
FIND YOUR DREAM HOME OR APARTMENT
msn real estate is social
WHAT'S YOUR HOME WORTH?
HOME IMPROVEMENT PROFESSIONALS
more on msn real estate