Are 41 bathrooms enough?
Buyers of custom homes are demanding two bathrooms for every bedroom, plus three to five powder rooms. A house designed with 15 baths now has 41.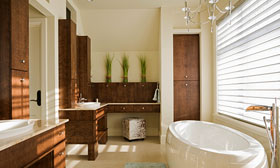 One thing that has changed dramatically in home design in my lifetime is the role of the bathroom.
Not only can you never be too thin or too rich, but you also can never have too many bathrooms.
A luxury home needs baths in the double digits, at least two per bedroom, according to a story in the Los Angeles Times.
Post continues below
This is how writer Lauren Beale described architect Bob Ray Offenhauser's approach to bathrooms in home design:
Architect Offenhauser, who recently retired, said he figured the bathroom count in custom homes by starting with two for the master bedroom and one for each bedroom. Then he'd add a couple of powder rooms and a bathroom for the swimming pool. And then he prepared himself for the client to ask for even more.
How many bathrooms are enough? An 18,400-square-foot house that Offenhauser designed in Los Angeles' Bel-Air neighborhood in 1985 with 15 baths has undergone additions and renovations and ended up with 41 baths.
Do you suppose that all 41 are ever in use at the same time?

I watch HGTV, so I have seen bathrooms with fireplaces, TVs, large fancy chandeliers and elaborate steam showers. A homeowner on a recent episode of "Selling L.A." insisted on luxurious "his and hers" master baths, a trend that has also caught on in some less expensive homes.
But even on the shows featuring homes that cost in the millions, bathroom counts in the double digits are rare.
If you're wondering what luxury features might be included, Lou Carlozo wrote in Reuters Money about some luxury features, including the $6,390 Numi toilet (which apparently comes in a slightly less expensive version, too), a $10,000 70-inch mirror TV and Kohler SoundTile speakers for the shower, which start at $350 a pair.
Guests at your home may be forced to share a bathroom with your children, but the rich can't have that. One bathroom for each guest room isn't enough; a suite with a bedroom and two baths is preferred.
One powder room for visitors? Buyers of multimillion-dollar homes want three to five. They also need bathrooms for the staff.
"The idea is never to inconvenience yourself or a guest," real-estate agent Boyd Smith told the Times. "You almost cannot have too many bathrooms."
What do you think? Has the American love affair with bathrooms gotten out of hand?
About Teresa Mears
Teresa Mears is a veteran journalist who has been interested in houses since her father took her to tax auctions to carry the cash at age 10. A former editor of The Miami Herald's Home & Design section, she lives in South Florida where, in addition to writing about real estate, she publishes Miami on the Cheap to help her neighbors adjust to the loss of 60% of their property value.
msn real estate is social
FIND YOUR DREAM HOME OR APARTMENT
WHAT'S YOUR HOME WORTH?
HOME IMPROVEMENT PROFESSIONALS
from our partners