Did Facebook IPO boost Silicon Valley real estate?
California region remains a hot market, where a 1,580-square-foot starter home can cost $1 million. Whether Facebook's IPO will change anything is debatable.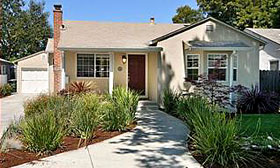 One place you won't hear about falling real-estate prices is California's San Francisco Bay Area.
Silicon Valley real estate is hotter than ever, in light of the Facebook initial public stock offering and other tech developments.
In Menlo Park, Calif., where Facebook is located, $1 million will buy you a 1,580-square-foot house, usually a standard three-bedroom, two-bathroom home, Zillow reports. When we went looking for a Menlo Park home to illustrate this story, we found that nearly all the listings near that price range, including the one pictured, already had sales pending.
Post continues below
In the three months between the announcement and completion of Facebook's IPO, the number of homes in Menlo Park priced at $1 million or more rose 87%, Zillow reported.
According to an article by David A. Kaplan in Fortune, however, the lackluster response to the IPO has increased the inventory of homes for sale in Silicon Valley, as sellers have gotten a bit more realistic about prices, at least by Silicon Valley standards.
"Facebook gave me a gift in showing my sellers there's no sure thing and don't look a gift horse in the mouth," Michael Dreyfus, a broker in Palo Alto, told Fortune. "The 'make-me-move' prices — where a seller says, 'I know my house is worth $5 million but if somebody pays me $10 million I'll take it' — are over due to the Facebook bomb."
To show you just how different the Silicon Valley market is, Zillow put together a chart showing how many 1,580-square-foot houses you could buy for $1 million in other cities. Even in pricey Washington, D.C., you could get 1.9 of those homes for that price.
In other cities, you could get much more: 2.5 homes in Boulder, Colo., or Seattle; 5.4 in Chicago; 8.7 in Tampa, Fla.; 9.6 in Las Vegas; and 10.9 in Dallas. In Detroit, you could get a whopping 24.3 homes for that price.
At the REI Bulletin, Mike Simonsen argues that the Facebook IPO will have no real effect on Silicon Valley real estate, which was largely immune from the bust. He writes:
The bottom line is that Silicon Valley consistently creates big stock wealth (thank God) and it consistently has few homes for sale. Home prices have held up quite fine since the bubble burst. They will continue to do fine. But Facebook is not a significant outlier event for homes in this market.
About Teresa Mears
Teresa Mears is a veteran journalist who has been interested in houses since her father took her to tax auctions to carry the cash at age 10. A former editor of The Miami Herald's Home & Design section, she lives in South Florida where, in addition to writing about real estate, she publishes Miami on the Cheap to help her neighbors adjust to the loss of 60% of their property value.
msn real estate is social
FIND YOUR DREAM HOME OR APARTMENT
WHAT'S YOUR HOME WORTH?
HOME IMPROVEMENT PROFESSIONALS
from our partners