Sold: Gerald Ford's home, Hemingway's place
Many Listings of the Week are still available, and some — like Florida's 'Versailles' — have had their asking prices cut. But several sold quickly.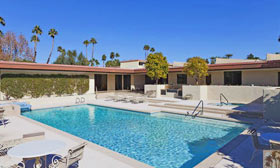 We looked back to see whether any of the past Listings of the Week have sold. Many have not, but some are now available at lower prices.
One that sold quickly was former President Gerald Ford's home in Rancho Mirage, Calif. The offer came just 11 days after it was listed in February, and the home sold for $1.675 million, just slightly below the $1.699 million asking price.
New owners John McIlwee, a Los Angeles celebrity business manager, and Bill Damaschke, chief creative officer of DreamWorks Animation, previously bought and restored a Los Angeles home designed by John Lautner.
Post continues below
They don't plan significant changes to the Ford estate. "You should never significantly alter something that has architectural integrity," McIlwee said in a news release. "Don't turn a midcentury marvel into a monstrosity it was never meant to be."
Ernest Hemingway's boyhood home in suburban Chicago, offered for $525,000, also went quickly. The sale of the three-unit Prairie-style home is pending.
The Winnetka, Ill., home that was the setting for the film "Home Alone" finally sold this month, after almost a year on the market. It sold for $1.585 million, well below the original $2.4 million asking price.
Among the homes that are still available are those of Dick Clark, Scarlett Johansson and Ryan Reynolds, as well as Garrison Keillor's Wisconsin retreat and the former home of Judy Garland.
Several of our Listings have seen some significant price cuts:
FIND YOUR DREAM HOME OR APARTMENT
msn real estate is social
WHAT'S YOUR HOME WORTH?
HOME IMPROVEMENT PROFESSIONALS