Listing of the Week: Dick Clark's piece of Bedrock
The late TV host's custom home, reminiscent of 'The Flintstones,' was built to blend into its spectacular surroundings. Its list price was just reduced.
Editor's note: This post was updated on Feb. 18, 2013, with new listing information.
If you're of a certain age, you remember Dick Clark and "American Bandstand," a dance party TV show that showcased the latest rock music. Many young people who watched "American Bandstand" in the 1960s also watched a popular cartoon, "The Flintstones."
Who knew that Clark and his wife, Kari, could get design ideas from the Flintstones and the Rubbles? Clark's unusual rock-style home in Malibu, Calif., boasting spectacular ocean, mountain and city views, first hit market in March 2012 for $3.5 million. Its list price was reduced on Feb. 12 to $3.25 million.
Post continues below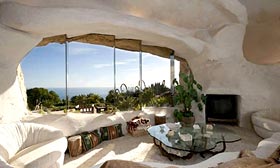 The house is on about 23 acres atop a mountain, "featuring unparalleled 360-degree views of the Pacific Ocean, Channel Islands, Boney Mountains, Serrano Valley, sunsets and city lights," according to the listing. You can see lots of photos here.
The one-bedroom, two-bath home is built in a distinctive style, appearing to be made of rock, inside and out. Even the kitchen cabinet doors have an uneven stone look.
The goal of the unusual design was to make the home look as if it were part of nature. The site is adjacent to the Santa Monica Mountains National Recreational Area, whose officials didn't want Clark to build there.
"[Clark] dug in his heels and said he was going to build a house there," architect Phillip Jon Brown told CNN Money. "I came up with the idea that if the house looked like a rock formation, the park conservancy would let us build on top. They liked the concept."
We couldn't find any reference to when the home was built. It has a wine cellar and a patio, but no pool.
A little description from Leah Ingram at Home Goes Strong:
From the looks of it, the bathrooms are the only rooms in Dick Clark's unique home that have doors on them. Like the rest of the house, this bathroom has curved walls and a neutral color scheme, including the walls, ceiling and floors. The floor looks like a sea sponge, perhaps to reflect nearby Malibu beach.

The lone bedroom in Dick Clark's Malibu home features wall-to-wall shag carpeting, which is very 1960s. 
Clark, who died this past April, also was known for hosting "Dick Clark's New Year's Rockin' Eve," which still bears his name. 
Are you sure you want to delete this comment?
FIND YOUR DREAM HOME OR APARTMENT
msn real estate is social
WHAT'S YOUR HOME WORTH?
HOME IMPROVEMENT PROFESSIONALS
from our partners