Listing of the Week: A $650,000 trailer at the beach
Hamptons mobile-home community offers a chance to mingle with the rich and famous for a lot less. It's not the only beachfront mobile-home development.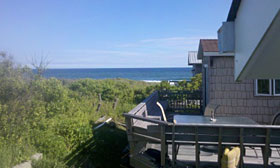 It's summertime, and you're thinking it's time to go to the beach. How about a getaway to the Hamptons in New York?
Our listing of the week is an affordable (by Hamptons standards) little place in a beachfront community with a pool, clubhouse, game room and security, plus 900 feet of pristine beach.
For $650,000, you can own this beachside trailer, which is technically a condominium. That's $1,040 per per square foot for the 625-square-foot mobile home, which has two bedrooms and one bath. You do get an ocean view. "Bright, sunny and immaculate; for surfers and beach lovers alike," the listing says.
If this trailer is a little outside your financial comfort zone, Curbed Hamptons wrote about two others on the market, also two-bedroom, one-bath, for $575,000 and $500,000. They're all part of the Montauk Shores Condominium, which started as a campsite in 1947. It became a condo development in 1976.
In a profile of the community last year, The New York Daily News wrote:
There are no cars on cinder blocks, no Lynyrd Skynyrd pumping from a boom box, and the laundry lines just show wet suits drying in the sun. The lawns and decks are decorated in different styles, some with gnomes, others with starfish, some with whales.
You can read the stories of three residents, including one who downsized from a $2 million-plus, 5,000-square-foot house.
Post continues below
All we know about the Hamptons is what we see on "Royal Pains" and "The Barefoot Contessa," but it certainly looks like a beautiful setting, and we know it's popular with the rich and famous.
Former President Bill Clinton and his wife, Secretary of State Hillary Rodham Clinton, will be visiting in a few weeks, renting a 12,000-square-foot estate that is listed for sale for $25 million. Vice President Joe Biden is expected this weekend.
The Hamptons isn't the only place where you can get a trailer with a view and the chance to hobnob with celebs. Just 15 miles south of Palm Beach, Fla., is the oceanfront town of Briny Breezes, which is a 488-unit mobile-home town in which each resident owns a share. At one point, the homeowners had a deal to sell out to a developer, at more than $1 million each, but the deal fell through. Today, units are being offered for sale from $119,000 to $349,000.
In Malibu, Calif., popular with the stars, you can pay up to $2.27 million for a mobile home, though prices start at $239,000.
What do you think? Are you ready to trade in your conventional, stick-built home for a trailer with a view?
FIND YOUR DREAM HOME OR APARTMENT
msn real estate is social
WHAT'S YOUR HOME WORTH?
HOME IMPROVEMENT PROFESSIONALS
from our partners