Home is a closet-size, 78-square-foot apartment
Young architect finds a tiny Manhattan bargain, at $800 a month. No bath, no kitchen? No problem.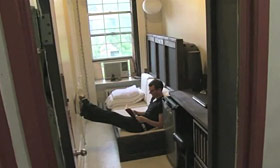 People in New York have to live in smaller spaces than do most of the rest of us. They know that.
But 78 square feet?
Architect Luke Clark Tyler is living in what is a small apartment even for Manhattan: a 78-square-foot pad furnished with a sofa bed, desk and miniature refrigerator in the Hell's Kitchen neighborhood.
For this, he pays $800 a month, enough for a mortgage payment on a three-bedroom house in some cities, but a bargain in New York City.
A conventional studio apartment in that neighborhood goes for about $1,600, and Tyler says he would rather spend that extra $800 a month elsewhere. His previous apartment was 96 square feet.
"Between this place and my last place I was living in Kenya in a place half the size of this, and it was made of mud," Tyler, 28, says in a video tour of his closet-size apartment. "So I don't have a kitchen. I'm five minutes from a lot of activities that I do."
Post continues below
One reason that the apartment can be so small is that it has no bathroom. Those facilities are shared with the occupants of three other similar apartments in the building. But Tyler says he misses having a kitchen more than he misses a private bath. He points out that he grew up in a family home with only one bath.
Tyler's "Midtown mansion," as he calls it, also has a closet, where he stores his clothes, toiletries and microwave. Winter clothes and tools are under the sofa bed he constructed of plywood and 2-by-4s. He also built the desk, which he uses as a home office, since he works from home.
"The smaller the space you have, the more critical it is to be efficient with how you use it, and especially how you furnish it," he says.
He entered his abode in Apartment Therapy's contest for the best small spaces, but he was beaten in the Teeny Tiny category by an apartment, also in Manhattan, five times the size of his.
Could you live in 78 square feet?
FIND YOUR DREAM HOME OR APARTMENT
msn real estate is social
WHAT'S YOUR HOME WORTH?
HOME IMPROVEMENT PROFESSIONALS
more on msn real estate