Listing of the Week: Replica of Disney Haunted Mansion
The 10,000-square-foot home, with an exterior modeled on the Disneyland attraction, is being offered on eBay for $873,000. It's near Atlanta.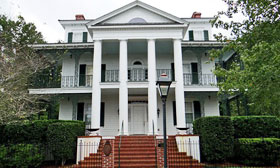 Looking for a place to host a Halloween party? Perhaps you'd like to buy a replica of Disneyland's Haunted Mansion.
The 10,000-square-foot home is not in Anaheim, Calif., with the rest of the theme park but in Duluth, Ga., a suburb of Atlanta. What's even more remarkable is that the replica of the Disneyland attraction is in a gated community with a homeowners association.
The house, which has a more conventional interior, is being offered for $873,000 on eBay, though the auction won't end until after Oct. 31.
Post continues below
The New Orleans-style mansion fits right into the Sweet Bottom Plantation community, which bills itself as "a neighborhood of historically inspired residences." It's not the only replica home in the development. An Inspiration Tour on the community website shows off other homes that are replicas of historic homes in New Orleans; Savannah, Ga.; and other cities.
The Haunted Mansion apparently is the only home inspired by a theme park. It was built in 1996 by Mark Hurt, a contractor for Disney who owns his own company, Constructioneer. Hurt got permission to measure the California attraction so he could get the dimensions right.  "Walt Disney was the mentor I had but never met," Hurt told the Los Angeles Times.
The home has seven bedrooms and six baths and is on a three-quarter-acre lot on a cul-de-sac. It has a two-story library, a large kitchen with professional appliances, a hot tub and a three-car garage.
Does it come with ghosts? Sorry, you'll have to bring your own.
You can, however, experience a hitchhiking ghost experience in one of the bathrooms, which has flickering lights and spooky music that plays when you wash your hands.
The owner is selling the home, where he lived with his family, not because it is haunted but because he wants to work on another Disney replica project in Hawaii: a home inspired by Disney's Grand Californian resort.
As they say, every family has  skeletons in their family tree. They should feel right at home I imagine. Who ever buys this place had better stock up on candy, because I suspect come Halloween time, it's bound to be the ultimate target for the neighborhood children, including those at heart. One could help pay their mortgage with all the tour potential and live their ultimate fantasy if they played their cards right.
Are you sure you want to delete this comment?
FIND YOUR DREAM HOME OR APARTMENT
msn real estate is social
WHAT'S YOUR HOME WORTH?
HOME IMPROVEMENT PROFESSIONALS