New home sales rise 9.6% in July
But the rate of sales is down more than 13% from a year ago, and prices still have a long way to go.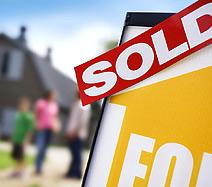 See, people aren't interested in buying only foreclosures and other distressed homes. Sales of new homes also are on the rise, posting gains for the fourth straight month, and even beating analysts' expectations with a 9.6% jump in July.
The Commerce Department reports that sales of new, single-family houses were at a seasonally adjusted annual rate of 433,000 in July, a rate we haven't reached since September 2008. The data look even better after June's annual rate was revised to 395,000, pushing its reported increase of 11% from May down to 9.1%. July apologizes for stealing your thunder, but I think it does so gladly.
However, the data don't look so good compared with a year ago, when the annual rate of new home sales was 500,000, which amounts to a decrease of 13.4%.
And with foreclosures making up about 31% of existing home sales in July, it's no surprise that the median price of new homes sold, at $210,100, is still a long way from last year's $237,300. And the median is even a smidge down from June's revised $210,400 median.
So, the National Association of Realtors is reporting a decline in the median price of existing home sales, from $181,000 in June to $178,400 in July. And the Standard & Poor's/Case-Shiller 10- and 20-city composites show a 1.4% increase in the price of home sales from May to June. What are we left with?
A bit of an increase here, a minor decrease there, but it looks like we're at least past the major dip that sent the global economy into a tailspin.
According to data from the Census Bureau, it looks like new home sales hit their bottom in January, when the annual rate reached only 329,000 and the inventory of homes for sale hit a 12.4-months supply. Forget about the fact that prices continued to plummet until March, when the median was $205,100, because we already know that we have a long way to go on prices. But hey, at least we're finally getting into healthy territory with an inventory of only a 7.5-months supply of new homes on the market.
If people have too much to choose from, prices are just going to keep on going down. So keep buying, people! You may as well take advantage of the $8,000 first-time homebuyer tax credit while you still can.
About Teresa Mears
Teresa Mears is a veteran journalist who has been interested in houses since her father took her to tax auctions to carry the cash at age 10. A former editor of The Miami Herald's Home & Design section, she lives in South Florida where, in addition to writing about real estate, she publishes Miami on the Cheap to help her neighbors adjust to the loss of 60% of their property value.
msn real estate is social
FIND YOUR DREAM HOME OR APARTMENT
WHAT'S YOUR HOME WORTH?
HOME IMPROVEMENT PROFESSIONALS
from our partners