Unemployed homeowners may get a break
The Obama administration is considering additional ways to help borrowers who are out of a job.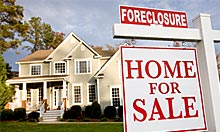 President Barack Obama has gotten the memo that his foreclosure prevention program isn't doing quite enough to save American homeowners.
Try paying a $1,500 mortgage with $1,000 in unemployment benefits. And eat. Yeah, it's not so easy. So what to do?
According to an article on Reuters.com, the Obama administration is looking at ways to help homeowners who are unemployed – a number that is likely to grow along with the predicted rise in unemployment, as reported by MSNBC.com.
Some of the options could include allowing borrowers to delay, defer or skip payments, but the administration official who spoke with Reuters also warned of potential hazards:
It could help more people struggling with economic difficulty, but it also could create perverse incentives that distort the housing market, said the official, who did not want to speak on the record about internal administration debates.

What do you think of these ideas to help homeowners who have lost their jobs? Do you think the Making Home Affordable program is enough, or do you think the government needs to do more to bail out everyday Americans?
About Teresa Mears
Teresa Mears is a veteran journalist who has been interested in houses since her father took her to tax auctions to carry the cash at age 10. A former editor of The Miami Herald's Home & Design section, she lives in South Florida where, in addition to writing about real estate, she publishes Miami on the Cheap to help her neighbors adjust to the loss of 60% of their property value.
msn real estate is social
FIND YOUR DREAM HOME OR APARTMENT
WHAT'S YOUR HOME WORTH?
HOME IMPROVEMENT PROFESSIONALS
from our partners