Former firehouse can be yours for $5.175 million
After extensive renovations, this unique and historic San Francisco property is up for grabs.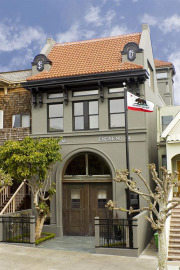 If your dreams of becoming a firefighter died with the realization that the job included life-threatening feats of courage, do not fret. There still is hope to meet the dream halfway -- at least if you have the $5.175 million to move into this former San Francisco firehouse.
Built in 1910 to house Chemical Engine No. 44, the building remained the home of firefighters and their engines until 1959, when artists Mark Adams and Beth Van Hoesen bought it for $7,500 at a public auction, according to a history of the building on the firehouse44.com Web site.
Even though few changes were made to the property before it was sold in 2006, it still fetched a jaw-dropping $2.2 million, writes Sushil Cheema for The Wall Street Journal's House of the Day. Owner Jamie McGrath purchased the firehouse as an investment property, waiting about a year for all the permits before he and his business partner at Teutonic Construction, Chris Dolan, spent about 14 months doing extensive renovations.
Extensive, yet tasteful, renovations, I might add. They left many of the original firehouse touches intact, including the original staircase, the old-fashioned call box and the fire pole, which they moved to the front of the house.
They also added more living space to the home -- converting the two stories into four stories -- giving it 6,140 square feet, along with four bedrooms and 4.5 baths. Besides the luxurious master bedroom and spa on the fourth floor, the home also features a roof terrace, two fireplaces and an elevator for when four floors is simply too far to climb.
And, if you like what you see in the photos, furniture and all, apparently that can be yours, too. But it'll cost extra, Cheema writes.
If you want to feel like you're still getting a good deal, which can be difficult after reading that the firehouse once cost less than $10,000, this might help: The home first was listed in May 2008 for $6.375 million, but the price was cut in September 2008 to $5.975 before being cut again to its current asking price in June.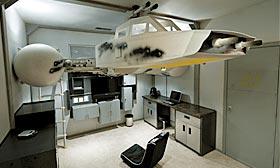 While we're on the subject of dream homes and price cuts, it sounds like Jonah Spangenthal-Lee with Seattle's Stranger Slog is jonesing for the Y-Wing bed in this recently reduced $364,900 home in Visalia, Calif.
A "Star Wars"-themed room certainly isn't for everybody -- but I suppose it's got about as much appeal to the general population as living in a former firehouse.
Although judging from all the talk about this bed, I'd say Spangenthal-Lee isn't the only one who wants to kick some kid out of his bed and take it for his own.
If you take price out of the equation, which would you prefer? The house with the Y-Wing bed or the former firehouse?
About Teresa Mears
Teresa Mears is a veteran journalist who has been interested in houses since her father took her to tax auctions to carry the cash at age 10. A former editor of The Miami Herald's Home & Design section, she lives in South Florida where, in addition to writing about real estate, she publishes Miami on the Cheap to help her neighbors adjust to the loss of 60% of their property value.
msn real estate is social
FIND YOUR DREAM HOME OR APARTMENT
WHAT'S YOUR HOME WORTH?
HOME IMPROVEMENT PROFESSIONALS
from our partners