It's a renter's market, with vacancies at a 22-year high
Make the most of your living arrangements and shop around for free rent or other perks.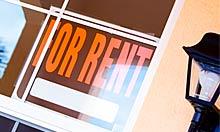 Renters have it so good right now! Not only do they have bragging rights about not jumping on the homebuyer bandwagon and potentially losing a ton of money, but now they have rentals galore to choose from.
Reuters.com reports that in the second quarter, the national vacancy rate for apartments hit a 22-year high of 7.5%. Real-estate research firm Reis Inc. says that even compared with last year, vacancies are up 1.4 percentage points.
Although renters are among the winners, the rental market is definitely one of the losers in this economic downturn. From the Reuters article:
The U.S. recession has taken a toll on the U.S. apartment market, which largely relies on employment growth to fuel demand. Its largest tenant group, 18- to 24-year-olds, has been hardest hit by rising unemployment. Meanwhile, the apartment buildings sector has led all commercial real-estate categories on loan defaults.
Landlords may not be able to do much about the loan defaults, but many of them are at least doing what they can to decrease the number of vacancies. Shop around for perks such as free rent, appliances, free pool and gym use and even gift cards. Or give haggling a try, and maybe you can work out a lower monthly rent in exchange for a longer contract. And some renters won't even have to negotiate for a cheaper price.
The WSJ.com Developments blog says asking rent prices have fallen for the last three quarters. In the past decade, asking rents fell only one other time, and that was only for one quarter.
There are still some tricks to the trade. Even in this renter's market, some landlords might try to raise rents on their tenants, but don't be one of their victims if you think they're in the wrong. Mary Pilon with WSJ.com shares a story of how she recently avoided paying an increase on her rent, along with a sample of the letter she used.
Are you a renter who's negotiated for a cheaper rent or other perks? What kind of tips can you share?
Are you sure you want to delete this comment?
About Teresa Mears
Teresa Mears is a veteran journalist who has been interested in houses since her father took her to tax auctions to carry the cash at age 10. A former editor of The Miami Herald's Home & Design section, she lives in South Florida where, in addition to writing about real estate, she publishes Miami on the Cheap to help her neighbors adjust to the loss of 60% of their property value.
msn real estate is social
FIND YOUR DREAM HOME OR APARTMENT
WHAT'S YOUR HOME WORTH?
HOME IMPROVEMENT PROFESSIONALS
from our partners