Brand-new homes in short supply
Could this be the end of the McMansion era?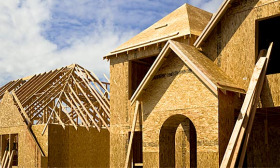 As we all know by now, it's a buyer's market out there. And as the first-time homebuyer tax credit nears its Dec. 1 deadline, it is becoming less and less of a builder's market.
So why should you care? Because it could seriously limit your choice of homes, especially as the housing inventory continues to fall.
And if your dream home is a brand-new McMansion in the suburbs, The Wall Street Journal says your options might be even more limited unless you act fast and take advantage of the low prices.
With foreclosures and other distressed homes driving down prices across the board, it's no longer worth it for many builders to start a home from scratch, The Journal writes. And talk about losses. A recent survey by the National Association of Home Builders found that 56% of its builders said the cost of building their homes is higher than the appraisals that are coming in.
And not only is it costing them more to build new, it's also difficult to get financing unless the builders already have a buyer.
So maybe the end of the McMansion era really might be here -- or maybe it's just time for a new kind of suburb. From The Journal:
After a long run-up in median new home size, peaking at 2,309 square feet in 2007, home sizes shrank to 2,091 square feet in 2009. "It's the largest decline ever seen," said the NAHB's chief economist, David Crowe. Since first-time buyers and their parents, the empty-nesters, will be the dominant demographic groups over the next decade, builders will cater to those groups' more modest needs.
I hope they're looking at more than just building smaller homes, because that's not what it's all about. Many empty-nesters and others are more often trading their big suburban digs for city life because they simply want to get out of their cars. 
But they shouldn't have to move to the city to achieve that kind of a lifestyle.
MSN Real Estate's Melinda Fulmer already has warned that the suburbs could become the next slums unless planners learn how to add a little Main Street charm to their suburbs.
Sounds like a brilliant way for builders and communities to work together to plan the next wave of the future.
About Teresa Mears
Teresa Mears is a veteran journalist who has been interested in houses since her father took her to tax auctions to carry the cash at age 10. A former editor of The Miami Herald's Home & Design section, she lives in South Florida where, in addition to writing about real estate, she publishes Miami on the Cheap to help her neighbors adjust to the loss of 60% of their property value.
msn real estate is social
FIND YOUR DREAM HOME OR APARTMENT
WHAT'S YOUR HOME WORTH?
HOME IMPROVEMENT PROFESSIONALS
from our partners