Shaq sells mansion at $19 million below original list price
The basketball star listed his Florida estate for $35 million four years ago. He sold it this week for $16 million.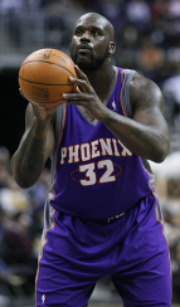 Finally, NBA star Shaquille O'Neal has sold his Miami Beach mansion, after it spent four years bouncing on and off the market. And the wait isn't even the bad part.
Not only did he get less than half his original asking price, but he also got nearly $3 million less than what he bought the estate for in 2004.
According to Kevin Tomlinson's Miami Beach Luxury Real Estate Blog, the property closed Tuesday with a sale price of $16 million. Shaq bought the Star Island home for $18.8 million in 2004, when he started playing for the Miami Heat, and he originally listed his estate only a year later for $35 million, according to Zillow.com.
But after he started playing in 2008 for the Phoenix Suns, he might have started to get a little antsier about selling the nearly 20,000-square-foot Florida estate. That August, Zillow said Shaq cut the price to $29 million, then took an even bigger chunk out of the asking price last month, lowering it to $22.5 million.
The Miami Beach Luxury Real Estate blog reports that the price plunged as low as $19 million in November 2008, but compared with the price Shaq actually got, it's hardly a jaw-dropper.
Not that you can buy it anymore, but for those of you interested in the lives of the rich and famous, the 2.5-acre home has seven bedrooms and eight bathrooms, a tennis court, a pool and, of course, an indoor basketball court.
Or, you can get even more up close and personal and check out photos of Shaq's former home.
FIND YOUR DREAM HOME OR APARTMENT
msn real estate is social
WHAT'S YOUR HOME WORTH?
HOME IMPROVEMENT PROFESSIONALS
more on msn real estate