New-home sales no longer on the rise
Contracts to buy new homes were down 3.6% in September after increasing for six months, but prices continue to show improvement.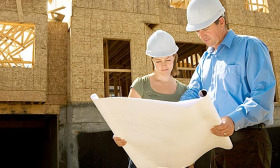 Maybe it's simply a coincidence that new-home sales took their first hit in six months just as the first-time homebuyer tax credit nears its end.
Not since March have new-home sales fallen, but now the Department of Commerce is reporting that September's seasonally adjusted rate of 402,000 was down 3.6% from August's revised rate of 417,000. September's rate also is 7.8% below the 436,000 in the same month a year ago.
Keep in mind that this report follows the number of contracts to buy rather than actual completed home sales, which means that we're talking about people who do not have time on their hands if they're hoping for an extra $8,000 from the government.
Applicants for the credit have until Nov. 30 to close on a deal, but in this day and age of tightened credit and new appraisal rules, buyers signing a contract as late as mid-September for a new home would be cutting it close to that deadline.
So maybe it's not a coincidence. From MSNBC.com:
The report "demonstrates the power of the first-time homebuyers tax credit," said Bernard Markstein, senior economist with the National Association of Home Builders, which has been lobbying Congress to extend and expand the tax incentive. "We just haven't gotten the economy back to the point where we can step back and say the housing market doesn't need any more support."
And support it the government has. Goldman Sachs recently estimated that government programs to prop up the market have artificially inflated home prices by as much as 5%, according to The Wall Street Journal.
The report on new-home sales certainly reflects that trend, with the median price paid for a new home in September rising to $204,800 from $199,900 in August, but down from $232,100 a year ago. Similarly, the average September price of $282,600 was up from $256,000 a month earlier, and $292,600 from September 2008.
But prices still aren't high enough to turn big enough profits for builders, according to another Wall Street Journal piece that urges potential buyers who still are looking for that brand-new McMansion in the suburbs to act fast.
They're not going to go away entirely, but builders are pulling back as demand slows, while also pondering a new tack to suit the more modest cultural trends of the time.
And supply really has gone down. In January, new homes were at a 12.4-month supply, and they're now down to a supply of 7.5 months, according to the Commerce Department. The Journal writes that levels this low haven't been seen since 1992, so maybe it wouldn't be such a bad idea to boost that McMansion hunt into high gear.

Why didn't they just call the cops? I live in Henry County GA and I feel like the COPS don't do anything here about this sort of stuff. Consequently it's practically legal to steal, deceive, pillage and plunder from your neighbors, friends or even relatives here as long as you follow the speed limit, wear your seatbelt and don't offend the sensibilities of a judge or patrol officer. You see,  the attitude seems to be that people are stupid or this stuff wouldn't happen. Also, it costs $$ to prosecute criminals!!! In this county it's all about what adds revenue to the county coffers. Arresting people who falsely peddle mortgage modifications simply fill up the jails and cost the county money. As far as I'm concerned, if these two took advantage of people who were already in dire straights they deserved to be lured to a trap and beaten. I'll bet they'll think twice before they try to victimize anyone else. Kudos to the Vigilantes! Evil prospers when good men do nothing! Veritas Equitas!
Are you sure you want to delete this comment?
About Teresa Mears
Teresa Mears is a veteran journalist who has been interested in houses since her father took her to tax auctions to carry the cash at age 10. A former editor of The Miami Herald's Home & Design section, she lives in South Florida where, in addition to writing about real estate, she publishes Miami on the Cheap to help her neighbors adjust to the loss of 60% of their property value.
msn real estate is social
FIND YOUR DREAM HOME OR APARTMENT
WHAT'S YOUR HOME WORTH?
HOME IMPROVEMENT PROFESSIONALS
from our partners