World's most expensive home: $220 million penthouse
The $150 million price tag for Candy Spelling's 123-room megamansion has been surpassed by a six-bedroom property in London.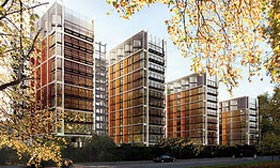 Maybe space just isn't the commodity it used to be.
As Candy Spelling's $150 million megamansion in Bel Air, Calif., has languished for more than a year on the market, an unidentified buyer has snatched up what's believed to be the world's most expensive piece of residential real estate for about $220 million, and it's hardly the 123-room, 56,500-square-foot estate that Spelling lived in with her late TV-producer husband, Aaron Spelling.
No, the world's most expensive home is actually a six-bedroom penthouse in London that's not even finished yet, according to Luxist.
The penthouse is part of the posh, 86-unit One Hyde Park development, which is slated for completion in December and boasts prices starting at $30 million, Luxist says.
Meanwhile, America's most expensive recorded residential sale this year was for a sprawling, 3,500-acre ranch in Colorado that energy executive and billionaire Kelcy Warren bought for $46.5 million, nearly half off the original $88 million asking price.
Post continues below video
But as The Wall Street Journal points out, even though Warren's Bootjack Ranch has its own spa and aquatic center, it does not have the 24-hour room service that's available to residents of the four-tower One Hyde Park from its neighboring Mandarin Oriental hotel.
Residents do have access to their own spas, however, as well as squash courts and a private wine-tasting facility, Luxist says, not to mention top-of-the-line security from former members of the United Kingdom's elite special forces unit, the Special Air Service.
And the penthouse takes security to the next level, with a panic room and bulletproof windows, which also will provide its new owners with a priceless view of the neighboring Hyde Park.
Who do you think is getting a better deal, the buyer of the posh urban penthouse or whoever finally buys the megamansion that's so big that Spelling has said she doesn't even know how many rooms it has?
FIND YOUR DREAM HOME OR APARTMENT
msn real estate is social
WHAT'S YOUR HOME WORTH?
HOME IMPROVEMENT PROFESSIONALS