Don't just stage your home's interior
Keep your competitive edge in the real-estate market by decorating your yard.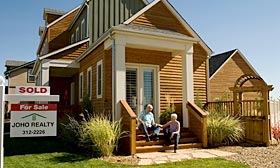 The pressure is on for home sellers who are hoping to land a sale this spring with help from the homebuyer tax credit, which requires buyers to complete a deal by April 30 to qualify.
And in today's market, where home prices still are going down in some regions, that means you're going to have to put a little elbow grease into your home's appearance if you want to get your money's worth.
In a blog post last week about 10 improvements you can make to your home to help increase your return, staging was a major theme that came up repeatedly, whether it be something as simple as placing some fresh flowers in a vase or painting your walls a neutral color.
But Move.com reminds us that it's also important to stage your front yard, the first part of your home that a potential buyer will see.
It's a little more difficult for those areas that still have snow on the ground, but until you can get out there and dig in the dirt, the least you can do is keep your driveway and sidewalks clear of snow.
For the rest of us, it's planting time.
Although it's important to keep your lawn neatly trimmed when your home is on the market, a few flowers to brighten your yard will give it even more curb appeal, Move.com writes.
Nothing instantly brightens and refreshens a home more than blooming flowers. If you missed planting bulbs in the fall, plastic hanging baskets and flats with annuals are a quick fix – and will last longer.
Although annuals are good for only one season, they're cheaper than perennials and give you the chance to "redecorate" your outdoors, Move.com writes.
Make sure you do your homework before you plant, though, to ensure that the annuals you pick are the best for your climate, as well as for the part of your property that you plant them in. Double-check that you're planting flowers that can withstand full sun in south- or west-facing areas that don't get a lot of shade, but keep shade-loving plants facing north and those that prefer partial sun and partial shade facing east.
There are also easy ways to add color to your yard that don't require you to get your hands dirty. Consider buying annual flats that you can place in your window boxes, but without the hassle of transplanting the flowers. Just add a layer of soil in the bottom so the roots have somewhere to go, and cut slits in the bottom of each one.
You also can easily add some lovely draping flowers along your walkway or by your front door by simply using hanging baskets filled with colorful blooms. Just remove the hanger portion from the basket, and place it in an appealing pot.
One last tip is that you shouldn't just stop there: The backyard is also worthy of your tender gardening care, and it just might be the finishing touch that helps you sell your house.

There are some really inexpensive things that sellers can do to stage a home for sale. In my area
staging a Massachusetts home for sale
can make all the difference in distinguishing a sellers home from the competition.
Are you sure you want to delete this comment?
FIND YOUR DREAM HOME OR APARTMENT
msn real estate is social
WHAT'S YOUR HOME WORTH?
HOME IMPROVEMENT PROFESSIONALS
more on msn real estate