Lawsuits over Chinese drywall piling up
The results of a government investigation into symptoms linked to the product are expected later this month.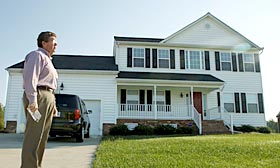 Closure simply can't come soon enough for the thousands of homeowners who fear they are living with symptoms caused by contaminated Chinese drywall.
As lawsuits linked to the issue pile up at state and federal courts, including a consolidated class action that will begin in January in Louisiana, the Consumer Product Safety Commission this month plans to release the results of its investigation into problems with the drywall, according to an article in The New York Times.
The results are expected to include reasons why the product has caused symptoms such as headaches and difficulty breathing, and outline possible remedies. But it will likely be too late for many of these homeowners and renters.
The Times follows the woes of one man, Bill Morgan, who blames the tainted drywall for forcing him to move out of his brand-new dream home in Williamsburg, Va., and for his eventual bankruptcy. All the signs were there: a noxious odor throughout the house, persistent headaches and nosebleeds, corrosion of indoor metals.
Morgan had no choice but to move out, but then he was unable to keep up with his mortgage and rent, especially now that he says the property his house sits on is worth more than the home itself.
Although the Consumer Product Safety Commission has received more than 1,300 complaints from 26 states, The Times writes that most of the complaints are from Florida, Virginia and Louisiana, which were in the middle of post-hurricane housing booms when domestic drywall began to run short in 2006 and 2007. From The Times:
"There could be 60,000 to 100,000 homes that are worthless and have to be ripped completely down and rebuilt," said Arnold Levin, a Philadelphia lawyer and co-chairman of the plaintiffs' steering committee. 
But the class-action lawsuit could very well lead to a dead end, since China isn't exactly known for cooperating with the U.S. judicial system, much less the U.S. itself. And tracking down the source of the drywall is another problem entirely.
The Times writes that in 2006 alone, China imported nearly 7 million sheets of drywall to the U.S., and although the court that will be hearing the class-action suit has identified 26 brands of drywall, 11 others simply say some variation of "Made in China."
Even if the source is found, oftentimes the company has simply disappeared.
So what's America's solution? From The Times:

Homeowners, insurers, home builders, drywall suppliers and Chinese manufacturers, if they can be identified, are often suing each other.
Well, at least we've managed to put a stop to the importing of any more Chinese drywall to prevent even more Americans from putting each other out of business. After all, it's not nearly as easy to get rid of a product that is installed throughout homes, compared with the recent recalls of toothpaste and pet food that have put consumers on the alert.
The Times says estimates put the cost of ripping out and installing new drywall and the electrical equipment attached to it at $100,000 to $150,000, a high price that apparently some builders are ready to eat to save their reputations.
But smaller companies may not be able to do the same thing, and jeez, talk about timing. From The Times:
"This couldn't have come at a worse time for the industry," said Jenna Hamilton, assistant vice president of government affairs at the National Association of Home Builders.
About Teresa Mears
Teresa Mears is a veteran journalist who has been interested in houses since her father took her to tax auctions to carry the cash at age 10. A former editor of The Miami Herald's Home & Design section, she lives in South Florida where, in addition to writing about real estate, she publishes Miami on the Cheap to help her neighbors adjust to the loss of 60% of their property value.
msn real estate is social
FIND YOUR DREAM HOME OR APARTMENT
WHAT'S YOUR HOME WORTH?
HOME IMPROVEMENT PROFESSIONALS
from our partners