Rent your home, or maybe just a room
More people are hoping to wait out the tough times by finding tenants for their house or taking in roommates to make ends meet.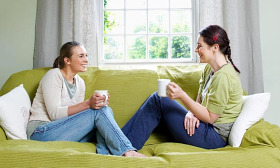 When the economy squeezes us as tight as it has been lately, we can expect it to also put a squeeze on the rest of our lives. Perhaps especially in the comforts of our own home.
Some homeowners and renters are putting practicality before privacy, taking in roommates to help balance out their finances while the the going is tough. And with home prices just beginning to rise again in many parts of the country, some homeowners are moving into new digs but holding onto their old homes, hoping to turn more of a profit if they wait a bit longer to sell. And in the meantime? They're renting their homes out, often for less than the cost of the mortgage and utilities.
So who are the winners here? Renters. With apartment vacancies at their highest levels in more than 20 years and rents falling in some areas, they have the cream of the crop to choose from.
The Wall Street Journal writes that although there is little concrete evidence showing that increasing numbers of homeowners are renting their homes, there is enough anecdotal evidence to point to a growing trend of homeowners turning into landlords -- or, as the article calls them, reluctant landlords.
The article even mentions one real-estate group that has started offering property-management services to its clients who have moved away after renting out their homes.
But it doesn't recommend these homeowners make a long-term habit out of collecting less in rent than the mortgage and other costs:
Experts generally advise against becoming a landlord in hopes of recouping lost home value. In some hard-hit parts of the country, such as Florida, Nevada, Arizona and parts of Ohio, prices may not climb back to mid-2000s levels any time soon. Landlords have to pony up money each year for property taxes, insurance, maintenance and repairs.
And since renters have so much to choose from, it probably won't do much good to charge them more money to make up your losses.
For homeowners who are trying to stay put but are having trouble keeping up with the bills, another option that seems to be growing is to find a roommate or two who can help contribute to monthly costs, according to The San Francisco Chronicle.
Although for some families it's as easy as renting out a mother-in-law apartment or taking in friends and family, for others it means living in proximity with a complete stranger.
Renters are also having to sacrifice their space and take in roommates, such as Jenifer Gilbert, whose older sister, Lesli Walls, recently joined Gilbert in her one-bedroom apartment, which she was talking about giving up because of financial difficulties. From the Chronicle:
"I can see us 30 years from now laughing and reminiscing about the one time we shacked up in a tiny apartment in San Francisco," Gilbert said.
So maybe it's not just the renters who are the winners. Let's hope that in the future, we can all look back and try to make the most out of these tough times.
What sacrifices have you made during a financial hardship? What experiences can you share about taking on a roommate out of necessity?
About Teresa Mears
Teresa Mears is a veteran journalist who has been interested in houses since her father took her to tax auctions to carry the cash at age 10. A former editor of The Miami Herald's Home & Design section, she lives in South Florida where, in addition to writing about real estate, she publishes Miami on the Cheap to help her neighbors adjust to the loss of 60% of their property value.
msn real estate is social
FIND YOUR DREAM HOME OR APARTMENT
WHAT'S YOUR HOME WORTH?
HOME IMPROVEMENT PROFESSIONALS
from our partners