Home prices remain flat
Case-Shiller reports a small gain in August, while another housing index shows a slight decline. Bottom line: Neither represents a recovery yet.
Nationwide, home prices in August remained near July's levels, according to two indexes released today.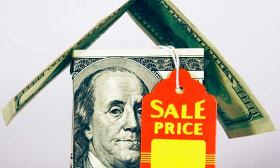 The S&P/Case-Shiller Home Price Index showed a 0.2% increase in August's home prices from July. Case-Shiller's 20-city and 10-city indexes measured the same gain. Year to year, however, the 20-city index was down 3.8% from August 2010, while the 10-city index was down 3.5%.
The blog "Calculated Risk" also notes that when allowing for seasonal adjustments, the 20-city index actually decreased 0.1% from July.
Meanwhile, the less-watched Federal Housing Finance Agency House Price Index logged a 0.1% decrease in August from July. This marks the index's first month-to-month drop since March, the FHFA says.
Just as with last month's home-price data releases, the slight increases and kinda-sorta-maybe dips likely don't represent a sea change in the housing market.
Post continues below
David Blitzer, chairman of S&P's index committee, said the slight increase in August's month-to-month Case-Shiller numbers represent a "glimmer of hope," according to The Associated Press. Ten of the 20 metropolitan areas in Case-Shiller's larger index reported an increase, and Blitzer called out Detroit for its consistent price bumps in the past year. It joined Washington, D.C., as the only cities to see annual gains.
Las Vegas posted its lowest index level ever, with prices there running 59.5% below their peak in August 2006.
Case-Shiller's monthly report represents a three-month average; in other words, August's report includes data from June, July and August.
The glass-half-empty view notes that the housing market still may suffer from reduced demand and suspect supply, with annual new-home construction activity still flounderingand a shadow inventory of foreclosure homes potentially keeping housing inventories artificially small. As The Wall Street Journal wrote last week, the selection of homes for sale today may pale in comparison to what buyers could choose from a few months back.
Guy LeBas, a strategist at Janney Capital Markets, told ABC News that even though loan activity is minimal at the moment, today's low interest rates also could be keeping home prices higher than they'd be otherwise.
"When the aforementioned supply-demand imbalance comes back into focus or when mortgage rates begin to rise, we'd expect renewed declines in residential real-estate values," he said.
The Case-Shiller 20-city index is down 32% from its peak and slightly above its March 2011 post-bubble low. The FHFA index is 19.1% below its peak.
When adjusted for inflation, home prices are back at 1999 and 2000 levels, Calculated Risk reports. So all those gains we saw in the past decade? Gone.
Do you think home prices will be lower, higher or about the same by the end of 2011? Let us know here or on Facebook.
— Tony Stasiek is a producer/editor at MSN Real Estate.

FIND YOUR DREAM HOME OR APARTMENT
msn real estate is social
WHAT'S YOUR HOME WORTH?
HOME IMPROVEMENT PROFESSIONALS
more on msn real estate