New-home sales headed for record low in 2011
Sales inched up slightly in October, but it looks as if annual sales will be even lower than last year's tally, which was the smallest number sold in nearly 50 years.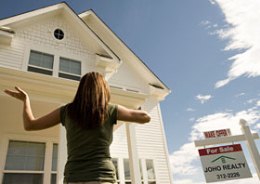 The number of new homes sold inched up slightly in October, but builders aren't throwing any parties.
2011 is shaping up to be the worst year for the sale of new homes since the Commerce Department began keeping records in 1963, with sales below even last year's record low.
"It looks like 2011 will be another year the homebuilders would like to forget," Michael Larson, a housing analyst at Weiss Research in Jupiter, Fla., told Bloomberg. "Sales remain depressed, lending standards are tight, and pressure on pricing remains due to an ongoing influx of distressed used homes."
Post continues below
Builders sold 1.3% more new single-family homes in October than they did in September. This October's sales were 8.9% above the number of sales in October 2010.
The rate of sales for October would yield total nationwide sales of 307,000 for the year. That's considerably fewer than the 323,000 homes sold last year, the lowest number in nearly 50 years and less than half the number sold in a healthy market.
The median sale price for a new single-family home was $212,300 in October, down 0.4% from September.
October's sales were the best since May, and builders put an optimistic face on the report.
"Today's report is right in line with our forecast for modest and gradual improvement in sales activity through the remainder of the year," David Crowe, chief economist for the National Association of Home Builders, said in a news release. "Particularly encouraging is the fact that builders continue to hold down their inventories to match the current sales rate, with the number of new homes for sale now down to a sustainable, 6.3-month supply."
The number of new homes for sale is at a record low, 162,000 nationwide, which is a 6.3-month supply at the current sales rate. Builders have kept inventory down as sales and prices have fallen, plus they have had trouble getting financing for new projects.
Here is how the building activity looked in October across the four U.S. regions:
Midwest: Sales up 22.2%.

West: Sales up 14.9%.

Northeast: Sales were unchanged.

South: Sales down 9.5%.
FIND YOUR DREAM HOME OR APARTMENT
msn real estate is social
WHAT'S YOUR HOME WORTH?
HOME IMPROVEMENT PROFESSIONALS