Would you live in a town built by Ikea?
A division of the Swedish furniture company is developing a 6,000-resident rental community in London, complete with shops and cafes.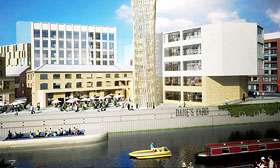 Ikea has millions of fans around the world, who like its simple, modern, Scandinavian vibe. You can fill your house with Ikea furniture, or you can get an Ikea-style house.
Soon, if you're in London, you could live in an Ikea town.
The real-estate development arm of the Swedish furniture company is moving forward with plans for Strand East, which will be a 6,000-resident development on 26 acres of industrial land near the site of this summer's Olympics.
Post continues below
The neighborhood will include 1,200 condos, townhomes and single-family homes, with 40% of those homes big enough for families. The neighborhood also will include public spaces, offices, stores, cafes and a hotel. There will not be an Ikea store.
"We are in keeping with the Ikea philosophy: We don't want to produce for the rich or the super-rich; we want to produce for the families, for the people," Harald Müller, the head of LandProp, the development division of Ikea parent company Inter Ikea, said in The Globe and Mail. "We want to be smart enough in our design that we can offer the product for a reasonable price."
The homes will be energy-efficient, and the neighborhood will mostly be car-free, with an underground parking garage for residents' cars.
Doug Saunders of The Globe and Mail, who recently toured the site, is optimistic about the development. He writes:
It will look, once complete, like a reproduction of the sort of historic, chic downtown neighbourhoods you find in the far more central parts of London or Paris, not in this distant expanse of former dockyards and bloodless public-housing project. …

… The whole thing is designed to create the sense of felicity and discovery you get when wandering a historic European neighbourhood – or, for that matter, an Ikea store.

It is a far more appealing design than most of the centrally-planned urban neighbourhoods that have blighted British cities for the last 60 years, and it promises the sort of pleasant population density – on a piece of wasteland that had once been considered uninhabitable – that could help Britain's dire housing shortages.
We don't believe the houses come furnished. This means if you want Ikea's new Uppleva —
which combines a TV with other high-tech elements as well as furniture elements —
you're going to have to buy your own.
What do you think? Would you like to live in a rental community built by Ikea?
About Teresa Mears
Teresa Mears is a veteran journalist who has been interested in houses since her father took her to tax auctions to carry the cash at age 10. A former editor of The Miami Herald's Home & Design section, she lives in South Florida where, in addition to writing about real estate, she publishes Miami on the Cheap to help her neighbors adjust to the loss of 60% of their property value.
msn real estate is social
FIND YOUR DREAM HOME OR APARTMENT
WHAT'S YOUR HOME WORTH?
HOME IMPROVEMENT PROFESSIONALS
from our partners