Home-price drop of 7.8% predicted by 2013
A report by Fitch Ratings sees reason for optimism in Arizona and Michigan, more price declines ahead in New York and New Jersey and a disaster in parts of Atlanta.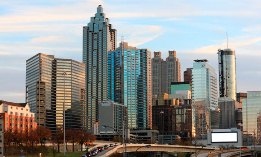 We end the week with good news and bad news on the housing front.
Fitch Ratings says the housing market will hit bottom in late 2013. But home values will drop an additional 7.8% before that happens.
Other analysts have also predicted that the bottom is likely sometime in 2013, though some cities will recover sooner and some later.
Post continues below
Fitch declared that home prices in Arizona and Michigan were already on the upswing, with prices in Arizona showing a small gain over the last quarter for the first time in two years and Detroit showing an increase of more than 8% in the last two quarters, though Michigan overall was down 1% for the past year.
Two states likely to see more pain are New York and New Jersey, where prices have dropped less than the national average so far. That's partly because foreclosures take so long in those states, meaning many distressed properties have yet to come to market. In the past five quarters, prices in New York City have dropped 7%, and prices in New Jersey are down 10%. Fitch predicted an additional decline.
The report devoted the greatest amount of space to Atlanta and elsewhere in Georgia, where prices are now 32% lower in than in 2000. But the pattern varies strongly by region, even within Atlanta. Prices in Atlanta's center and affluent northern suburbs have held up, while prices in the southern part of the city are suffering a precipitous decline.
Georgia, Fitch noted, did not experience a major run-up in prices during the boom, as Nevada, Florida and some other states did. The report noted:
In the downturn, many states with large declines were simply unwinding the unsupportable increases in value that had built up earlier in the decade. Among the 10 states with the biggest price drops from the market peak, six experienced appreciation of more than 90% within the six years from 2000-2006.
Georgia, on the other hand, saw a measured rise in prices of only 14%, and recent movements reflect not an unwinding of inflated prices but new historic lows for each of the last three quarters. Real prices are now 15% lower than at any other point in the 37-year Case-Shiller historical time series.
To get the report, you will have to register at Fitch Ratings, which is free, verify your registration and perhaps clear the cookies from your browser.
FIND YOUR DREAM HOME OR APARTMENT
msn real estate is social
WHAT'S YOUR HOME WORTH?
HOME IMPROVEMENT PROFESSIONALS
more on msn real estate