New misery index measures cities' malaise
Good news, Detroit: You're not as miserable as everyone thinks you are.
Misery loves company, and apparently, it also loves to be measured.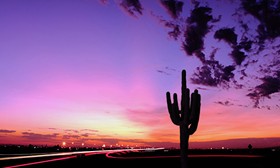 Dow Jones and the Wall Street Journal have created a new formula to quantify just how lousy residents of various metro areas are feeling.             

The index measures misery using criteria including unemployment rates, rising gas prices and plummeting home values. Taking data from the Labor Department, gas prices from gasbuddy.com and home prices from Standard & Poor's, the study puts the national misery index at 20%.

But the real interest lies at the local level – which city lands the unwanted "most miserable" title in this new index?
Congratulations, Phoenix. An annual home-price drop of 9.1% and a 22% rise in gas prices have made you the runaway, er, winner, with a misery index tallied at 31.24%.  
Rounding out the top five are Portland, Ore., 27.67%; Seattle, 25.74%; Minneapolis, 25.24%; and Los Angeles, 24.93%.
Not all misery indexes are created equal. The top five cities on the Wall Street Journal's list didn't even crack the top 20 in Forbes' annual ranking of the most miserable cities for 2011. To compile its list, Forbes looked at the 200 largest metro areas and ranked each based on 10 factors, including violent crime, commute times and tax rates.
The original misery index was created by economist Arthur Okun, an adviser to President Lyndon Johnson, and takes an even simpler approach than the Wall Street Journal or Forbes. The unemployment rate is simply added to the rate of inflation. The misery index for 2010 averaged 11.3% using these criteria.

Is there relief around the corner from all this misery? Not according to the Journal:
Don't expect misery to ease soon. Although the jobless rate is likely to fall gradually, gas prices are likely to keep rising as the U.S. nears the summer driving season. And the S&P/Case-Shiller report warned there was "no real hope in sight for the near future" concerning home prices.
Is your city more miserable than it's getting credit for? Tell us on Facebook.

-- Greg Lee is a producer for MSN Real Estate

About Teresa Mears
Teresa Mears is a veteran journalist who has been interested in houses since her father took her to tax auctions to carry the cash at age 10. A former editor of The Miami Herald's Home & Design section, she lives in South Florida where, in addition to writing about real estate, she publishes Miami on the Cheap to help her neighbors adjust to the loss of 60% of their property value.
msn real estate is social
FIND YOUR DREAM HOME OR APARTMENT
WHAT'S YOUR HOME WORTH?
HOME IMPROVEMENT PROFESSIONALS
from our partners