10 best neighborhoods in America
The American Planning Association has honored 10 diverse communities for their sense of place. Do you live in a great neighborhood?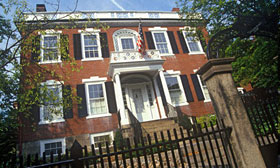 I once lived in a neighborhood that was considered a fabulous location. It was close to downtown — but not too close — full of cute 1930s houses, convenient to activities I enjoyed and near friends.
And I hated it, because it just wasn't neighborly. I persuaded my partner to move back to our old, less convenient but much more neighborly neighborhood. Location matters, but neighborhood sometimes matters even more.
The American Planning Association has just come out with its list of the 10 best neighborhoods in America. The criteria include architecture that's visually interesting, a design that encourages social contact and a memorable character.
"You don't feel like you're in Everywhere, USA," said Denny Johnson, APA public-affairs coordinator, in USA Today.
If you think you'd like to live in one of these neighborhoods, Curbed put together a collection of homes for sale in some of them.
Post continues below
Here are America's 10 best neighborhoods for 2011:
Do you live in a great neighborhood? What draws you to a neighborhood?
About Teresa Mears
Teresa Mears is a veteran journalist who has been interested in houses since her father took her to tax auctions to carry the cash at age 10. A former editor of The Miami Herald's Home & Design section, she lives in South Florida where, in addition to writing about real estate, she publishes Miami on the Cheap to help her neighbors adjust to the loss of 60% of their property value.
msn real estate is social
FIND YOUR DREAM HOME OR APARTMENT
WHAT'S YOUR HOME WORTH?
HOME IMPROVEMENT PROFESSIONALS
from our partners