Listing of the Week: A-Rod's $38 million custom home
Yankees player Alex Rodriguez has listed his Miami Beach mansion less than a year after having it built in consultation with ex-girlfriend Cameron Diaz.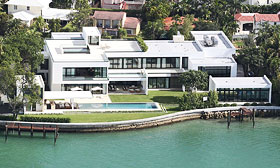 Baseball star Alex Rodriguez is ready to say goodbye to his new Miami Beach home, less than a year after he had it built. But it may be awhile before he gets his price.
The nine-bedroom, 11-bath home along Biscayne Bay is being offered for $38 million, about $12 million more than he paid for the lot and the construction of the 20,000-square-foot-h​ome. "What Miami dreams are made of," the listing reads.
The modern structure was built by Todd Michael Glaser. You can see more photos here.
The gated and walled compound has an indoor batting cage, a home theater, two docks, 16 security cameras, a rooftop deck, a heated infinity pool, spa, guest house, four-car garage and more.
And, as befits an athlete, the listing says, "Standalone gym featuring steam room is fitness fanatic's paradise."
According to media reports, the New York Yankees player built the home in consultation with then-girlfriend Cameron Diaz, the actress. But the two have since split.
The $38 million mansion is not the most expensive home offered in Miami Beach. There are at least three others offered at higher prices, including the mansion of the late Gianni Versace, which is listed at $125 million.
A 30,000-square-foot home nearby just sold for $47 million, a record for a Miami-Dade County residential sale. According to Curbed Miami, Rodriguez had suggested to the developer that he raise the price to $60 million.
In 2010, Rodriguez sold his home in the Miami suburb of Coral Gables at a loss, $3.5 million less than than the $12 million he had paid for it in 2004.
Are you sure you want to delete this comment?
About Teresa Mears
Teresa Mears is a veteran journalist who has been interested in houses since her father took her to tax auctions to carry the cash at age 10. A former editor of The Miami Herald's Home & Design section, she lives in South Florida where, in addition to writing about real estate, she publishes Miami on the Cheap to help her neighbors adjust to the loss of 60% of their property value.
msn real estate is social
FIND YOUR DREAM HOME OR APARTMENT
WHAT'S YOUR HOME WORTH?
HOME IMPROVEMENT PROFESSIONALS
from our partners