Test drive your retirement home
Active-adult communities offer prospective buyers a chance to try out new life before they commit.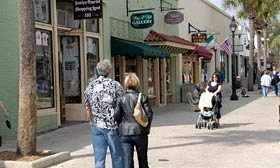 In an effort to lure buyers in a slow economy, retirement communities are trying a new marketing tactic: Invite prospective residents for a few days to "test drive" the community.
Many communities have always invited prospective residents for a "test drive," either free or at a marginal cost. If you're considering buying a home in a 55-plus active-adult community, or any community, you definitely want to try it out first.
But don't just try it out for a few days. Especially when you're thinking of buying a home in another city or state, you want to try it out for a few months, maybe a year. Renting a place before you buy is one easy way to try out whether you like the community, will get along with the residents and can tolerate the weather in the new location. You may even decide you don't want to live in a retirement community.
Prices and demand for homes in active-adult communities are down, one reason more are offering test drives as incentives, SmartMoney reports:
These communities, which were hit hard by the economic downturn in 2008, need all the help they can get, experts say. In the past four years, occupancy rates in retirement communities have fallen about five percentage points to 87.6%, according to the NIC MAP Data & Analysis Service. Meanwhile, prices have slumped: The median price of a new age-qualified home in an active-adult community has dropped 6% from its peak in 2005 to $300,000, according to a January report from the Metlife Mature Market Institute.

Post continues below
SmartMoney profiles five high-end communities that offer test drives for a fee. Del Webb, which has built many active-adult communities, offers previews at many of its properties. Some places offer the previews only to "qualified" prospective buyers. If the development you're interested in doesn't offer you a vacation preview, ask for one.
If you like what you see when you visit, rather than buying immediately, you still should consider this just the beginning of your investigation. We've all been places that we've found paradise for a few days. But you won't know whether this is your long-term dream home until you give it a months-long test. Florida in the winter is not Florida in the summer.
Are you sure you want to delete this comment?
About Teresa Mears
Teresa Mears is a veteran journalist who has been interested in houses since her father took her to tax auctions to carry the cash at age 10. A former editor of The Miami Herald's Home & Design section, she lives in South Florida where, in addition to writing about real estate, she publishes Miami on the Cheap to help her neighbors adjust to the loss of 60% of their property value.
msn real estate is social
FIND YOUR DREAM HOME OR APARTMENT
WHAT'S YOUR HOME WORTH?
HOME IMPROVEMENT PROFESSIONALS
from our partners