$150,000 golf-course lots selling for $1
Luxury homes in golf communities are losing their luster as fewer people play the game. The marriage between real estate and golf may not have been a good one.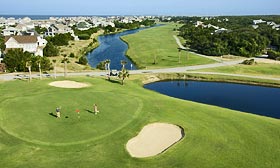 Where can you find a deal on property these days? Try a luxury golf community.
According to The Wall Street Journal, the decline in the popularity of golf, coupled with the real-estate downtown, has significantly cut demand for homes in golf-course communities. That has meant price cuts for homes, lots and even country-club fees.
"There's a train wreck in the industry now," John Reed, developer of the Colleton River Plantation, Belfair Plantation and Berkeley Hall communities in South Carolina, told the Journal.
"We overbuilt and the market stopped."
Post continues below
In the 1990s, 60% of the golf courses built were part of a real-estate development, according to David Hueber, former president of the National Golf Foundation.
He wrote a paper titled "'Code Blue' for U.S. Golf Course Real Estate Development" in 2010, based on his doctoral research. He concluded that the marriage between real estate and golf has not been good and that the traditional golf-course community was not sustainable. He wrote:
The influential role that real-estate developers played in this regard is of particular note, because too many golf courses were built, too much was spent on developing them and, as a result, many of these golf courses are not financially viable enterprises. Also, these golf courses were often too difficult, too expensive and took too long to play, which eventually translated into having a large number of golf courses that did not meet the needs of the golf industry's ultimate consumers -- average golfers.
If, however, you like golf courses and golf-course communities, you may be able to get a deal.
Here are some of the deals cited by the Journal:
A free lot at the Colleton River Plantation, plus the seller paid the $15,000 club initiation fee and the first year of membership fees, an additional $17,000. Lots at South Carolina communities that once sold for $150,000 are now available for  $1 from sellers who want to get out from under $12,000 to $17,000 annual club dues.

A lakefront home in Delray Beach, Fla., at the Mizner Country Club, which sold for $1.6 million in 2007, is available for $795,000.

At Horseshoe Bay Resort near Austin, Texas, you can get a lot for $39,000 that previously sold for $300,000.

In the Pronghorn community in Bend, Ore., lots that once sold for $500,000 have gone for as little as $10,000.
"The model of a country club in its current form is gone forever," Florida developer Syd Kitson told the Journal. He recently bought a bankrupt golf community in Naples, Fla., and is revamping it to include a village center. Homes will sell for $700,000 to $2 million, not up to $6 million as the original developer projected.
FIND YOUR DREAM HOME OR APARTMENT
msn real estate is social
WHAT'S YOUR HOME WORTH?
HOME IMPROVEMENT PROFESSIONALS
more on msn real estate