Family of 4 lives in 168-square-foot house
After losing their home and their business, this family decided to do some serious downsizing, and built their own home for $12,000.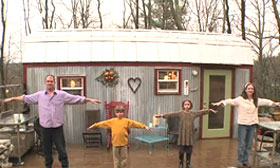 When the recession hit in 2008, Karl and Hari Berzins lost everything, including the restaurant they owned in Central Florida and the three-bedroom home they had refinanced to bankroll the business.
Like many families, they sought to downsize to recover from their financial woes. But their method was unconventional: They built a 168-square-foot house, where they live with their two young children in rural Virginia.
The house cost $12,000 to build, using scavenged materials and building supplies they acquired off Craigslist and other sources. That included the flatbed trailer upon which they built the 8-by-21-foot house.
Post continues below
If you include the two sleeping lofts at either end of the home, their abode is actually 320 square feet. The "ground floor" includes a living room with a built-in couch that lifts up for storage, a foyer, a computer nook, a kitchen and a bathroom with a shower.
The couple was on Anderson Cooper's talk show last month, as part of a series on "Outrageous Ways People Save Money." Inhabitat has lots of still photos and more details.
The Berzinses don't have a mortgage. Their home is well-insulated (with rigid foam insulation they salvaged), so their electric bill averages $40 a month, they said.
They were inspired by the Tiny House Blog, and they publish their own blog, Tiny House Family, in which they share their experiences living in a small space. Hari Berzins wrote about the freedom she finds in living with fewer belongings:
Our big house overwhelmed me – dusting, mopping and vacuuming all came AFTER putting away the stuff. And we loved stuff. We had decorative candles, ornaments, platters, memorabilia. I had shelves lining our bedroom just to hold sentimental collections of dust. …
What felt so great as I gave tours of the tiny house last August was knowing how much I've grown. My husband and I no longer argue about the order of our home – it's rarely out-of-order. We got rid of most of the clutter through a series of yard sales and donations. What we kept for our future small house is boxed up and in storage. Living with only the things we use on a regular basis has freed us from the task of putting away clutter."
The family's goal is to eventually build a larger house, at least one large enough for a bathtub, that they can live in mortgage-free.
We're written several blog posts about people who have chosen to live in smaller spaces, trading home mortgages for a different kind of life. The recession and the housing bust have forced many homeowners to think about how much home they really need.
As Michael Janzen writes at Tiny House Design:
In 2007-2008 many of us found ourselves trapped in upside-down mortgages or in foreclosure. We had grown complacent and convinced that homeownership came with few risks. Now that the bubble has popped and has little possibility for reinflation, we now understand the true value of paying our dues upfront instead of mortgaging our futures.
By sharing their story on television, Karl and Hari are showing the world an option the majority may have not considered – an option that values frugality, saving and financial freedom. If you're feeling the financial pinch yourself, consider extreme downsizing and living simply.
What do you think of the tiny house movement? Would you live in a home this small in order to live debt-free?
FIND YOUR DREAM HOME OR APARTMENT
msn real estate is social
WHAT'S YOUR HOME WORTH?
HOME IMPROVEMENT PROFESSIONALS
more on msn real estate