So you own a pet tiger. Where can you live?
In light of last week's Ohio animal-farm tragedy, states may be cracking down on ownership of 'exotic' pets — if they haven't already.
Homeowners associations, landlords and other housing authorities often field pet questions from prospective buyers and renters. Can we keep a dog? How many cats are too many cats?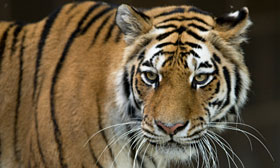 And what about Ladainian, my 40-pound Canadian lynx?
After the owner of a Zanesville, Ohio, farm released 56 lions, tigers and other wild animals last year— resulting in the deaths of 49 animals as well as the owner, of an apparent suicide — many communities are focusing on if and how a similar event could happen there. Often, it comes down to state and local pet laws. The Agriculture Department does not regulate pets, though zoos and wildlife sanctuaries fall under its jurisdiction.
Post continues below
The Humane Society has issued a call to numerous state governments to ban all exotic animals as pets. Ohio Gov. John Kasich already has signed an executive order allowing more arrest powers over animal owners, though a law prohibiting sales of exotic animals expired earlier this year.
The Wall Street Journal, on the other hand, compiled this handy grid detailing the animal laws in each state. So if you're thinking more Siberian tiger than Shih Tzu, look to the South.

Alabama, North Carolina, South Carolina and West Virginia join Nevada, Ohio and Wisconsin as the only states to allow exotic pets, no questions asked. Other states, such as Arizona and Missouri, require permits for owning animals such as anacondas, capuchin monkeys and the like. Illinois and Washington state are among the 17 states, plus the District of Columbia, to ban them outright.
In some cases, homes on park or reservation land could be exempt from the state's animal laws.

So how many of these animals are a part of U.S. households? According to the California-based Captive Wild Animal Protection Coalition, it breaks down like this:
Great apes and similar primates: 3,000 or more
Big cats, such as lions, tigers and panthers: 10,000 to 20,000
Reptiles, such as venomous snakes: 8.8 million
Birds: 17.3 million
Of course, with only some states requiring licenses for these animals, most of those numbers are estimates. Often, wild-animal ownership may only come to light when tragedy occurs.
"In recent years, several incidents have of been reported of people who have died or suffered injuries because the state hasn't exhibited the foresight to stop private citizens from keeping dangerous wild animals as pets or as roadside attractions, and the situation gets more surreal with every new incident, including this mass escape or release of large animals in Ohio," says Wayne Pacelle, the Humane Society's president and CEO, in a release.
The Humane Society names Nevada, Missouri, North Carolina, Ohio and Oklahoma as the five most lax states when it comes to regulating wild-animal ownership. And no, it did not mention the Las Vegas tiger scenes from "The Hangover" in its rundown.
— Tony Stasiek is a producer/editor at MSN Real Estate.

FIND YOUR DREAM HOME OR APARTMENT
msn real estate is social
WHAT'S YOUR HOME WORTH?
HOME IMPROVEMENT PROFESSIONALS
more on msn real estate