Is the open kitchen over?
Some homeowners are tired of letting everyone see their dirty dishes and are seeking ways to block off the kitchen, at least part of the time.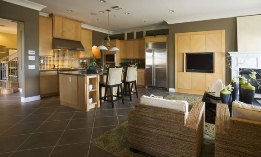 My parents bought their first (and only) house in 1966. What clinched the purchase was the kitchen/dining layout, unusual for its time. The square kitchen was open to the square dining room, which opened through French doors into the living room.
The designer of that 1955-era home was ahead of his time in creating what has become the most popular space for modern design: a kitchen that is open to the living area.
Now, some homeowners are saying that what they really want is to be able to hide the kitchen, harking back to the design of the past.
Post continues below
"As nice as it is to talk to someone making dinner, people are tired of looking at the dirty dishes," Steven Harris, a New York architect, told The Wall Street Journal.
Back in the olden days, when even middle-class homeowners had staff to do the cooking, kitchens were small and hidden away. Who hasn't toured a beautiful vintage home only to discover that the kitchen, while updated, was still claustrophobic and there was no way to open it up?
Frank Lloyd Wright was one of the architects who began breaking down walls and opening up homes. The WSJ also credits a 1926 German design and the SoHo loft craze of the 1970s with inspiring architects and homeowners to open kitchens up to living areas.
Most homeowners today prefer open floor plans, and few want a closed-off formal dining room, which was popular a generation ago. Some expensive homes have open kitchen/living spaces as big as your house.
But the open kitchens do have their drawbacks, one being that anyone who comes over can see your dirty dishes. Cooking smells travel, and a cook who wants to hide from guests can't do it.
Architects interviewed by The WSJ have closed off kitchens, at least partially, with glass walls, semi-opaque walls, curtains, pocket doors and islands designed to hide a mess. Check out some photos and renderings here. (Don't forget Mary Tyler Moore's pull-down kitchen window in the 1970s.)
People who entertain particularly like an open kitchen, because it makes the cook part of the party and bows to the fact that everyone always ends up in the kitchen anyway.
Do you have an open or closed kitchen? Do you like it, or would you prefer a different design?
FIND YOUR DREAM HOME OR APARTMENT
msn real estate is social
WHAT'S YOUR HOME WORTH?
HOME IMPROVEMENT PROFESSIONALS