Real-estate buzzwords vary by price level
'Parlor floor' appears often in high-priced listings, while 'cute little bungalow' appears often in listings for less expensive homes. Yes, descriptions vary by region.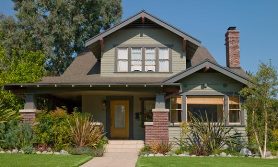 We told you a few weeks ago that using a word such as "fantastic" in a real-estate listing isn't so fantastic.
Taking advantage of the computer's ability to crunch data, the real-estate portal Trulia has taken a look at listing words and phrases to find out which are most common.
During the real-estate boom, for example, every single condo development mentioned in a press release was described as a "luxury" condo, even a one-bedroom offered at a modest price.
So what words are common to describe houses with high listing prices today?
The phrase most associated with the most expensive listings is "parlor floor," Trulia reports. If you are like me and have never visited a home with a "parlor floor," clearly you are not the luxury type. Or maybe we're just not in Manhattan. The parlor floor is the main floor of an urban townhouse or mansion.
Other phrases associated with high-priced listings are formal gardens, paneled library, magnificent estate, Lutron lighting, public rooms, once-in-a-lifetime opportunity, highest level, motor court and two powder rooms. Miele, Viking and Sub-Zero join Lutron as brands often mentioned in expensive listings.
And at the low end? Expect to see "minimum commission applies" (this is for homes priced so low that real-estate agents want more than 6%), city inspection and "starter home investment property," among others. We were surprised to see "cute little bungalow" among the most common phrases in lowest-priced listings but perhaps that's because "cute" is the best thing they can find to say about it. It also could be a location issue. Bungalows are common in many industrial and Midwestern cities where prices are generally lower, as well as in inner-city neighborhoods.
This brings us to the issue of regional variations. We don't see "parlor floor" or "cute little bungalow" mentioned in South Florida listings. Among some common regional words and phrases, Trulia reports, are lanai in Hawaii; Roman tub in West Palm Beach, Fla.; solar screen in Fort Worth, Texas; pole barn in Grand Rapids., Mich.; and Whole Foods in San Francisco. "Mirrored closet doors" apparently are a selling point in Orange County and Ventura., Calif., even though they scream "dated" in other locations.
The Trulia analysis didn't look at which words were effective in listings, but merely which words were used most often in listings at various price points.
What real-estate listing terms do you think are overused or make a difference in your area?
Are you sure you want to delete this comment?
FIND YOUR DREAM HOME OR APARTMENT
msn real estate is social
WHAT'S YOUR HOME WORTH?
HOME IMPROVEMENT PROFESSIONALS
more on msn real estate