Pain of real-estate bust spreading to more cities
Minneapolis showed the greatest year-over-year decline in prices. Dallas, Denver and Cleveland are also struggling.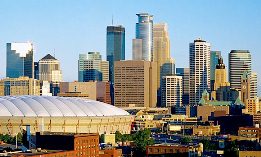 Here's one interesting piece of information that came out of the S&P/Case-Shiller report Monday: Cities that weren't initially hit hard by the housing bust are now suffering significant drops in home values.
The city that posted the largest year-over-year decline was not high-flying Miami or Las Vegas but Minneapolis. That's right: Home prices fell 10% in Minneapolis in the last year, for a total of 38.3% since the height of the boom in September 2006.
Dallas, Denver and Cleveland, which initially fared better than many cities, also are seeing significant declines in prices, reported Alex Veiga and Derek Kravitz of The Associated Press.
"We didn't enjoy the highs and the lows like other cities," Kay Weeks of Ebby Halliday in Dallas told The AP. "But when we get bad news nationally, people take notice and cut back on spending and buying homes."
Post continues below
Lower prices for distressed homes are pulling down prices nationwide, and tighter lending standards are keeping some who would like to buy out of the market.
In Denver, there have been fewer foreclosures, but many young people are finding prices haven't fallen enough to make homes affordable, broker Gary Bauer of the suburb of Littleton, Colo., told The AP. "When they're doing the calculations to rent versus buy, they're choosing to rent," Bauer said. "It's simple math, and for many people, it's too expensive to own."
Here's a closer look at the S&P/Case-Shiller numbers for the four metro areas:
Minneapolis-St. Paul:

Prices fell 3.7% between February and March and 10% in the past year. Prices are down 38.3% since the peak in September 2006. A large number of distressed properties are dragging down the market, according to data from the Minneapolis Area Association of Realtors. Foreclosures and short sales were more than 50% of all sales from January through March,

the St. Paul Pioneer-Press reported

. "I think we're going to have to work through this inventory that's out there, that the banks own and that the banks are in the process of foreclosing on,"

Brad Fisher of the Realtor group told KARE-TV

. "How long could that take? That could easily take another two to three years to work through."

Dallas: Prices declined 0.8% from February to March, the ninth straight month of decline, and 2.5% from last year but have not reached the low of February 2009. The March 2011 prices were 10.7% below the peak in June 2007.

Cleveland:

Prices fell 1.8% from February to March and 6.3% in the past year. That makes a total decline of 21.6% since the peak in July 2006. Prices here are

now at the level of 1999

.

Denver: Prices fell 0.6% from February to March and 3.8% in the last year. Prices have not yet reached the low point of February 2009 but are down 14.1% since the August 2006 peak and are expected to fall further.
About Teresa Mears
Teresa Mears is a veteran journalist who has been interested in houses since her father took her to tax auctions to carry the cash at age 10. A former editor of The Miami Herald's Home & Design section, she lives in South Florida where, in addition to writing about real estate, she publishes Miami on the Cheap to help her neighbors adjust to the loss of 60% of their property value.
msn real estate is social
FIND YOUR DREAM HOME OR APARTMENT
WHAT'S YOUR HOME WORTH?
HOME IMPROVEMENT PROFESSIONALS
from our partners