Realtors rally to 'protect the American Dream'
Industry group draws about 15,000 members to Washington, D.C., event to show support for the NAR's advocacy of housing policies.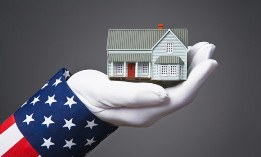 More than 15,000 real-estate professionals descended on the Capitol in Washington, D.C., on Thursday for a "Rally to Protect the American Dream."
The event, organized by the National Association of Realtors, drew an additional 12,706 virtual participants on Twitter and other social media.
"The housing market was the beginning point of the spear going into the recession, and it will be the spear leading us out," Sen. Johnny Isakson, a Georgia Republican who is a real-estate agent, told U.S. News before the rally. "It's that gross domestic product that needs a boost, and it's housing that's going to take us from where we are to where we want to go."
Post continues below
The rally is part of increased political activity by the NAR and other groups over proposals in Congress or before federal agencies that they fear will hurt the housing industry.
The National Association of Home Builders expressed its concerns with a new website, called Protect Home Ownership. The builder group is sponsoring local rallies around the country.
Among the issues that are raising the concern of real-estate professionals and builders:
Rules requiring larger down payments on mortgages.

Proposals in Congress to eliminate or limit the tax deduction on mortgage interest.

Suggestions that the $500,000 exemption from capital gains tax for couples who sell their homes (it's $250,000 for single home sellers) be eliminated or curtailed.

The future of the National Flood Insurance program.

The future of Fannie Mae and Freddie Mac and the role of those

government-supported​

entities in making mortgages available.
The NAR increased its annual dues $40 last year to raise $80 million for political advocacy in the next two years,
Inman News reported
. The rally was part of a week of lobbying in Washington on housing issues.  
FIND YOUR DREAM HOME OR APARTMENT
msn real estate is social
WHAT'S YOUR HOME WORTH?
HOME IMPROVEMENT PROFESSIONALS