Sandy victims to take buyouts rather than rebuild
New York begins buying up homes in areas subject to frequent flooding. Staten Island community is the first to be offered buyouts.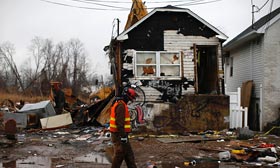 It has been more than four months since superstorm Sandy slammed into the Northeast, devastating dozens of communities.
While many homeowners are working to rebuild, at least one community has decided to give up. Residents of Oakwood Beach, on New York's Staten Island, have agreed to be bought out rather than rebuild. Other communities may follow.
"I'm done," Joe Monte, who has lived in the same home for 22 years, told The New York Daily News.
Post continues below
"I can't handle it no more. I can't go near this home. I can't see this home. It's affected my family. Just get us out of there. I want to feel normal again."
At least 169 of the 192 residents are ready to accept an offer from the state to pay them 100% of the value of their homes before the storm, plus an additional 5% if they relocate elsewhere on Staten Island. The marshy land is slated to be turned into a recreation area.
"Let's also recognize that there are some places that Mother Nature owns," New York Gov. Mario Cuomo said in announcing the buyout, as reported by The Staten Island Advance. "She may only come to visit every two years or three years or four years. But when she comes to visit, she reclaims the site."
Oakwood Beach, where beach bungalows that sprung up in the 1930s were gradually replaced by full-time homes, has suffered from flooding for years. The Associated Press explains:
... the community has repeatedly flooded, especially since 1992, when a nor'easter washed away a berm that had served to hold back the waves. Residents fought for years to have the berm rebuilt and other flood-mitigation efforts put in place. Some measures, such as a bulkhead that burned in a brush fire, were damaged or destroyed before Sandy. Others were simply overwhelmed by the amount of water pushed ashore by the giant storm, which hit at high tide during a full moon.
The is the first of a number of buyouts New York intends, with the goal of moving residents out of areas that experience frequent flooding. Residents of several other Staten Island communities have already asked for buyouts.
Oakwood Beach resident Barbara Mercado is ready to abandon her home of 36 years, where she raised her two children. "It's with a heavy heart that we do it, but it's a necessary decision to be made," she told The New York Post.
FIND YOUR DREAM HOME OR APARTMENT
msn real estate is social
WHAT'S YOUR HOME WORTH?
HOME IMPROVEMENT PROFESSIONALS