Demand rises for $100,000-per-month rentals
Celebrities and business travelers like enough space for their staff and entourage. What can you get for that price? A lot.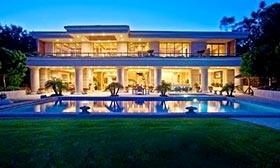 We've all likely heard that rents are rising.
As CNBC reports, demand is rising for that perfect $100,000-a-month place. Yes, again, we are reminded that the rich are different from you and me.
Most of those $100,000 rentals are short-term leases. The customers are celebrities, businesspeople and international travelers.
Post continues below
"For people with a lot of money, renting is like dating," Gary Malin, president of Citi Habitats in New York, said to CNBC. "It's a short-term commitment they can get out of. And, at that price, they still want a very special property."
Perhaps your landlord will be a celebrity, as well. Leonardo DiCaprio rents out his oceanfront Malibu, Calif., compound for $75,000 to $150,000 per month, with the higher price for periods of less than six months. For that, you get a four-bedroom main house, a two-bedroom guesthouse and a loft apartment with a gym in a third structure.
That type of compound is just what the rich are looking for in a short-term rental, because they often travel with staff members who also need lodging.
"It's really more cost-effective to rent a house for $100,000 than to rent out all those rooms at the W for a month," Miami Beach broker Brett Harris said to CNBC. "It's a value proposition. It really boils down to privacy and security."
So what can you get for $100,000 a month, if DiCaprio's place isn't available? Perhaps you'd like one of these places:
About Teresa Mears
Teresa Mears is a veteran journalist who has been interested in houses since her father took her to tax auctions to carry the cash at age 10. A former editor of The Miami Herald's Home & Design section, she lives in South Florida where, in addition to writing about real estate, she publishes Miami on the Cheap to help her neighbors adjust to the loss of 60% of their property value.
msn real estate is social
FIND YOUR DREAM HOME OR APARTMENT
WHAT'S YOUR HOME WORTH?
HOME IMPROVEMENT PROFESSIONALS
from our partners