Forget Florida. Try retiring to Maine
AARP The Magazine has compiled a list of 10 livable and affordable retirement destinations. Some may surprise you.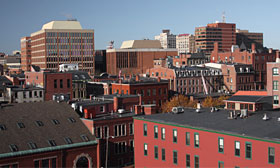 When I retire, I'd love to move to New York City for a few years. Not only is there a lot to do, but you also don't need a car. Unfortunately, I can't afford that. When you're looking for a place to retire, cost of living matters.
AARP The Magazine has come up with a new list of 10 affordable cities for retirement. The magazine considered not only cost of living, but also factors such as climate, recreation and culture.
You may be surprised at what they found. Not one city in Florida, Arizona or New Mexico, traditional retirement havens, made the list.
To compile the list, AARP looked at 350 cities, weighing property taxes, sales-tax rates, median housing price and taxes on pensions and Social Security. Then the analysts looked at lifestyle factors.
Post continues below
Here are three of AARP's most interesting suggestions:
Portland, Maine.

You don't necessarily think of moving north to retire, but Portland has made it onto several lists of affordable, interesting cities, including

MSN Real Estate's list of Most Livable Bargain Markets

. The median home price is $202,800, which is a bit higher than some of the others on AARP's list. But, as a former Portland police officer told the magazine: "On one hand, you have this relaxed urban environment, with all kinds of cultural and art opportunities, but you're just a short drive from everything that makes Maine such a great, outdoorsy place."

Winchester, Va. This historic small town 75 miles from Washington, D.C., has a downtown historic district and is one of a number of beautiful small towns in Virginia's Shenandoah Valley. The median home price is $151,500.

Columbus, Ind. If you're interested in architecture, you might like this small city, which is about an hour south of Indianapolis and 35 minutes east of Bloomington, home of Indiana University. Columbus' innovative architecture rivals that of Chicago and San Francisco, AARP The Magazine reports, and the city has buildings and public art by a number of noted architects. The median home price is $124,200.
The other cities on the list were Gainesville, Ga.; Tulsa, Okla.; Wenatchee, Wash.;Cheyenne, Wyo.; Harrisburg, Pa.; Ithaca, N.Y.; and Midland, Texas. If you'd rather live in another country, AARP The Magazine also has a list of best places to retire abroad.
What do you think? Would you consider retiring to any of those cities? What qualities do you require in your ideal retirement destination? Let us know here or on Facebook.
CORRECTION: Forget Florida. Try retiring to Maine
July 27, 2011: Winchester, Va., is 75 miles northwest of Washington, D.C. The original version of this post included an incorrect location.
FIND YOUR DREAM HOME OR APARTMENT
msn real estate is social
WHAT'S YOUR HOME WORTH?
HOME IMPROVEMENT PROFESSIONALS