Listing of the Week: 'Bargain mansion' brings the outside in
Custom features, including a conservatory and camera obscura, set this 9-bedroom home apart.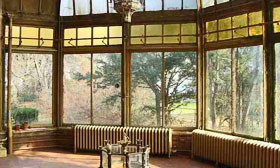 Our Listing of the Week didn't make the cut for our just-published roundup of bargain mansions nationwide. Which is fine: This nine-bedroom, seven-bathroom home in Glens Falls, N.Y., has its own story to tell.
Take the wallpaper surrounding the main staircase. It's original, installed by the first owner, George Tait, who ran one of the country's largest wallpaper manufacturers in the early 1900s. Better yet: "The color has not faded. It probably looks as it did when it was put up," says listing agent Kris Coutant of Keller Williams Realty Saratoga Springs.
The 7,046-square-foot home is listed for $699,900.
Post continues below
Coutant says the stairway is among the more stunning parts of the home, which she pointed us to on Facebook. It's a double staircase, with two walkways winding up two stories.
Upstairs are the bedrooms — and yes, there are nine. Although homes of this era are notorious for their "cozy" living spaces, especially on upper levels, Coutant says these are "bigger than many bedrooms nowadays." Five are on the second floor, and four are on the third, which once housed workers' quarters. All but one have two entrances and exits.
That's quite a bit of room for one place. But some features add a bit of individuality. Two types of wood are used in each room, Coutant says, and the pocket doors separating rooms -- including those between the living room and old-school receiving room on the first floor -- have different detailed carvings.
One has a special feature in the glass: a camera obscura that projects neighboring Crandall Park onto the walls. In all, the property's grounds span 2.26 acres, including an in-ground pool added later in the home's life.
Want more of the outdoors? Check out the first-floor conservatory (pictured above), with a glass expanse, original hanging light fixture, tile floors and a working indoor fountain.
In a century, the home has had just four owners. It always has been one of the biggest in the area, Coutant says. At least one vintage postcard of the property is floating around.
Seeing as how the home was last remodeled in the 1970s, it needs some work. But Coutant says the city may be willing to adapt its zoning to accommodate residential or commercial use, such as a bed and breakfast or banquet space.
— Tony Stasiek is a producer/editor at MSN Real Estate.
About Teresa Mears
Teresa Mears is a veteran journalist who has been interested in houses since her father took her to tax auctions to carry the cash at age 10. A former editor of The Miami Herald's Home & Design section, she lives in South Florida where, in addition to writing about real estate, she publishes Miami on the Cheap to help her neighbors adjust to the loss of 60% of their property value.
msn real estate is social
FIND YOUR DREAM HOME OR APARTMENT
WHAT'S YOUR HOME WORTH?
HOME IMPROVEMENT PROFESSIONALS
from our partners