California dominates list of 'turnaround towns'
Rising prices and falling inventory give Western cities nine of the top 10 spots. Miami is the only Florida city still on the list.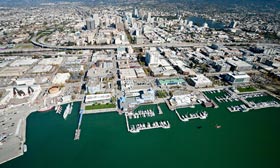 The turnaround towns have turned sharply West in recent months, with Western cities taking up nine of the top 10 spots in Realtor.com's list of the top turnaround towns.
For the third quarter of 2012, California led the list, taking seven of the 10 top spots. Incredible shrinking inventory in California has helped raise prices.
The top turnaround town was Oakland, Calif., where unemployment has dropped to 8.2%, below the state average of 10.4%. The number of homes for sales has dropped 58.3% from a year ago.
Post continues below
Also in the top 10 list were Sacramento, at No. 2, followed by San Jose and San Francisco. Other California towns on the list were Bakersfield (6), Santa Barbara-Santa Maria-Lompoc (7) and Fresno (9).
Two California metro areas that did not crack the top 10 list nevertheless earned rankings as "zoom towns" because of their rapid progress up the list. Orange County, ranked 136th (of 146) towns a year ago now is at No. 25, rising 62 spots in one quarter. Stockton-Lodi moved from 61 to 16 on the list between the second and third quarter, primarily because of shrinking inventory.
Seattle-Bellevue-Eve​rett, Wash., took the fifth spot on the list. Home prices were up 13% over the third quarter last year, and inventory was down 40.62%.
Phoenix, ranked No. 1 in the second quarter, fell to No. 8, despite an increase of 28.59% in median list price. Inventory is down 29.75% since last year.
The list is compiled based on price changes, the time it takes properties to sell, the number of homes for sale, unemployment and searches by Realtor.com users.
What about those Florida towns that led the list at this time last year? Only Miami stayed in the top 10, with median list prices up 14.57% and inventory down 22.37%.
Orlando, ranked No. 2 in the third quarter of 2011, is now down to 24. Fort Myers-Cape Coral, at No. 3 this time last year, is now 61st. Both cities are seeing fewer searches, and listings are taking longer to sell in Fort Myers-Cape Coral.
Are you sure you want to delete this comment?
FIND YOUR DREAM HOME OR APARTMENT
msn real estate is social
WHAT'S YOUR HOME WORTH?
HOME IMPROVEMENT PROFESSIONALS
more on msn real estate