Architecture for feral cats with good taste
Architects produced designs for NYC felines, ranging from teepees to brownstones to structures made of repurposed cat-food cans.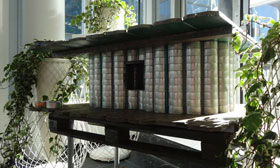 We've seen all sorts of photos of innovative dwellings for dogs, designed both for charity and for those canines whose owners can afford five figures for a doghouse.
You don't see nearly as much architecture for cats, perhaps because no matter how beautiful the cat house, your kitty is likely to prefer the box it came in.
However, cardboard boxes are not the best choice for cats who live out in the elements, so the NYC Feral Cat Initiative organized a competition to design innovative dwellings for the cats who live in the streets of New York.
Post continues below
Eight dwellings by top New York architecture firms were unveiled last week at the Architects for Animals: Giving Shelter benefit. The dwellings ranged from modern homes on stilts to a Native American teepee. One house was built from 300 empty cat-food cans (photo). The simplest was a cooler with a hole cut in the side, covered with a moss to make it blend into the environment.
Architect Leslie Farrell, who created Architects for Animals and started the event three years ago, also wanted a cat house that would blend into the environment. Her Kitty High Rise is a five-story Brooklyn brownstone for felines, with perches where the fire escapes would be. It will be placed in a Washington Heights community garden, where the cats earn their keep by keeping rats away.
Building shelters for feral cats is common in places where temperatures plunge below freezing in winter.
"Cats like to find the darkest places to sleep," Kathryn Walton, who designed the cat-food-can house, told The New York Times. "They don't want to be exposed to foot traffic or vehicular traffic. And if it's 50 degrees or so, for sure they will be on top of the shelter."
If you'd like to try your hand at cat-shelter design, the NYC Feral Cat Initiative has links to a number of DIY cat shelters.
FIND YOUR DREAM HOME OR APARTMENT
msn real estate is social
WHAT'S YOUR HOME WORTH?
HOME IMPROVEMENT PROFESSIONALS
more on msn real estate