Bye-bye, mudroom and hello, 'drop zone'
A room where you can put all your junk down as you enter the house is becoming popular. But soaker tubs and breakfast nooks are losing favor.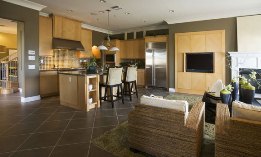 Here's a home trend we can all get behind: a special room where you can dump all the stuff you and your family bring home every day.
Such a room, called a "drop zone," is replacing the mudroom in new construction and remodeling projects, according to The Wall Street Journal.
These rooms, which can be as big as 10 feet by 10 feet, may include baskets for mail, places for backpacks and coats, storage for winter outerwear and maybe even lockers.
"A closet with a pole and hanger won't do," Washington, D.C., real-estate agent Laura McCaffrey told The WSJ.
The "drop zone" is part of a trend away from the showy and toward more practical home design, perhaps inspired by the times in which we live or maybe because people are just getting smarter about their space.
Post continues below
Another trend on the way out — and one we are happy to see go — is the two-story foyer, deemed impractical and too expensive to heat and cool.
"Value and need are driving the home-purchase decisions, not the potential investment value," Stephen Melman, an economist for the National Association of Home Builders, told The WSJ.
A survey by the NAHB late last year predicted that the house of 2015 would have no living room and would instead have a great room that encompasses family room, dining room and kitchen, a trend that has been ongoing in recent years.
On the way out are sunrooms, media rooms, mudrooms and skylights, the NAHB members said. But laundry rooms and walk-in closets will survive. The survey also predicted more use of energy-efficient features.
Here are some of the features The WSJ says are in, and some that are out:
Formal living rooms are out; open family rooms are in.

Second staircases are out; spaces for elevators are in

Home offices are out; "lifestyle centers" are in. A "lifestyle room" is a room off the kitchen where parents can use their computers or do crafts and other tasks, keeping an eye on cooking and children.

Soaker tubs are out; steam showers are in.
I never saw much use for two-story foyers, soaker tubs and breakfast nooks, but then I've lived mostly in small, older homes with no foyers at all and dining nooks off the living room. I'm not sure I need an outdoor kitchen, either, though a table and chairs outside are certainly nice.
If you could remodel your house or buy a new house, what features would you want and which ones do you think are useless?
FIND YOUR DREAM HOME OR APARTMENT
msn real estate is social
WHAT'S YOUR HOME WORTH?
HOME IMPROVEMENT PROFESSIONALS