Women build tiny homes for less than $4,000
For two California women, a shipping container and a flatbed trailer were the beginning of creative abodes they built themselves from salvaged materials.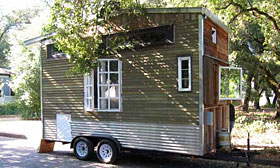 We've brought you a few stories about people who have built great tiny homes at not so small prices. But in California, two women built their own tiny homes for less than $4,000 each, using salvaged materials and a lot of ingenuity.
Website Fair Companies recently posted a video about a Sonoma-area woman named Lulu who says she built a home for herself and her daughter from a shipping container she got free. When she decided the 8-by-20-foot space was too small, she says, she built a bedroom "wing" on a trailer with a bedroom for herself and a loft bed for her daughter.
Post continues below
Now she's planning a second bedroom, plus a greenhouse to join the space so it won't be so cold going from bedroom to bath in winter.
"When you don't have money, you just get creative, you know, and I had to go to the junkyard many times and be like, 'OK, what am I going to do' and be like, 'OK, I'll pick that' and 'How can I convert that into a closet?' and 'How can I make that a sink?' and 'How am I going to make that fit?'" Lulu said in the video on Fair Companies, which showcases innovative small homes and other aspects of sustainable living.
Lulu's shipping-container pod includes a living room, kitchen and bath – as well as a sheet-turned-trapeze​ for her daughter. The walls, floor and roof are insulated. She cooks on a camp stove hooked to a propane tank. The propane also fuels an on-demand water heater, made for camping, that she bought for $135. The 4-by-8-foot bathroom includes a deep claw-foot tub. The video didn't mention how she handles sewage.
The bedroom pod is 8 by 16 feet, giving her a total 228 square feet of living space so far.
Like many people who live in small spaces, Lulu made her decision for lifestyle reasons and a desire to spend her time doing something besides working to pay rent. She decided boxes of pink toys and a conventional pink bedroom weren't necessary for her daughter's happiness.
"How many hours do we have to our life and how do I want to spend those hours and really about do I want to go and work more than 10, 20, 30 hours a week so that I can pay rent to have a big house so that I can be a healthy normal mom," she says in the video. "So this was my choice and she's definitely complained at times, but I also know that we have spent way more hours than I would have if I had to pay rent."
FIND YOUR DREAM HOME OR APARTMENT
msn real estate is social
WHAT'S YOUR HOME WORTH?
HOME IMPROVEMENT PROFESSIONALS