Listing of the Week: 172-year-old estate with a colorful history
Now undergoing a full remodel, this Massachusetts house reportedly once was home to Nancy Astor, wife of Waldorf Astor and the first woman elected to the British Parliament.
We asked our Facebook buds for Listing of the Week leads, and they delivered — with enough cool properties to cover more than a month of posts. Today, with help from real-estate agent Lisa Johnson Sevajian of the North of Boston Living Group in Andover, Mass., we bring you a house that's actually not quite complete — though it has been around since before the Civil War.
Built in 1850, this 5,400-square-foot mansion sits on 2.81 acres in the Littles Hill area of Georgetown, Mass., about 35 miles from Boston. For the past four months, Sevajian and builder Steve Pascoe of AAA General Contracting Inc. have been redesigning the property into a six-bedroom home and two-bedroom guest house. It's listed for $899,000.
The place appears to have had a few names over the years, including Three Wells, the Wells Estate and the Shaw Estate. But according to this newspaper clipping found on site, its most famous inhabitant may have been Nancy Astor, or Lady Astor — the first woman elected to Parliament and wife of Waldorf Astor, whose family lent its name to New York's famed Waldorf Astoria Hotel.
Post continues below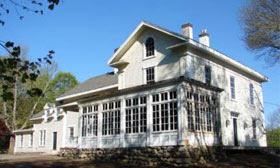 According to the clip, Nancy Astor and her first husband, Robert Gould Shaw, moved to this home, near a church and State Route 133, sometime between marrying in 1897 and divorcing in 1903. She moved to England shortly after and in 1906 married Waldorf Astor, member of the prominent family once known as the "landlords of New York." Their wedding gift was the Victorian castle now known as the Cliveden Hotel.
In that time, the Georgetown property saw its share of changes. Most notable was its conversion into three apartments with separate kitchens and entrances — "a whole bunch of silliness," Sevajian says. "It's a gorgeous house, and it never should have turned out that way."
Scheduled for completion in the next two weeks, a $400,000 rehab will consolidate those units into two living spaces. The six-bedroom main house will feature 6.5 bathrooms, plus a second-floor laundry room and a fully redone kitchen with granite countertops. Considering that rooms of the 1850s don't always measure up to today's standards, there's a bit of conversion going down: The master bathroom and master closet were bedrooms in the home's previous incarnation as a multifamily property.
The crown jewel, Sevajian says, is a new "great room," consolidating a former kitchen and bathroom. Adorned with white columns, it measures 1,785 square feet.
"The columns are original, the woodwork is original — it's just really impressive," Sevajian says. "It's so large that it feels like a ballroom."
Ripped down to the studs and rebuilt, the two-story in-law or guest house will feature two bedrooms, two baths, a family room and a private deck.
Appliances and most fixtures in both houses are new.
Tour the property via this video, or check out the photos Sevajian has posted to Pinterest.
— Tony Stasiek is a producer/editor at MSN Real Estate.
FIND YOUR DREAM HOME OR APARTMENT
msn real estate is social
WHAT'S YOUR HOME WORTH?
HOME IMPROVEMENT PROFESSIONALS
from our partners
more on msn real estate