A Modernist architectural masterpiece, in Legos
Mies van der Rohe's Farnsworth House is the latest edifice to be constructed from the tiny plastic bricks. Yes, you can build one at home.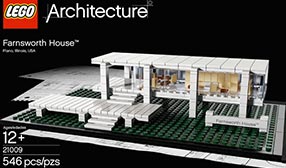 Do your kids like to play with Legos? Perhaps they're preparing for a career in architecture. Or Lego architecture.
Ludwig Mies van der Rohe's Farnsworth House near Plano, Ill., is the latest architectural masterpiece to be created in Legos. And, yes, you can try this at home, if you buy the kit for $59.99.
Mies van der Rohe built the Farnsworth House in 1951. It is considered a pre-eminent example of minimalist, Modernist architecture.
The architect behind the Lego version of the Farnsworth House is Adam Reed Tucker, who has constructed a number of famous landmarks in Legos, including the World Trade Center and Fallingwater, the Frank Lloyd Wright masterpiece in Pennsylvania.
Post continues below
Tucker initially designed regular-size buildings, but after the destruction of the World Trade Center in 2001, he started thinking about ways to combat the fear of vertical architecture.
"I thought, 'Well, the brick as a medium could be kind of whimsical to offset the intimidating nature of architecture,'" he told Brandon Springer of Smithsonian.com. "It's something that's not typically thought of outside of its usefulness as a toy."
He doesn't use a computer to design his miniature creations, but does them in his mind, from photographs, building, unbuilding and rebuilding until he achieves his desired effect. He told Springer:
That combination allows me to create and capture the essence of a structure into its pure structural form. Essentially what I'm doing is not necessarily getting caught up in the details of the design, but I'm trying to naturally provide a balance between allowing the model to still look as if it's made out of Legos, then also trying to balance and capture the structure to where it is obviously identifiable, but doing so in, you know, kind of an artistic capture.
The Smithsonian has an online gallery of his other Lego work, which is on display at the National Building Museum in Washington, D.C., until Sept. 5.
If you want to see even more elaborate Lego construction, you can visit the Legoland theme parks in California, Canada and Europe, or a new park that will open in Florida in October.
Lego also sells kits to build other architectural masterpieces, including the White House, Seattle's Space Needle and the Guggenheim Museum. No, you are not too old to ask for Legos for your birthday.
FIND YOUR DREAM HOME OR APARTMENT
msn real estate is social
WHAT'S YOUR HOME WORTH?
HOME IMPROVEMENT PROFESSIONALS
more on msn real estate