In Phoenix, tenants compete for scarce rentals
Bidding wars, open houses and other features of the real-estate boom are back as tenants scramble to snag rental homes. Rentals are scarce elsewhere, too.
In Phoenix, the real-estate frenzy is back.
Crowds of people are flocking to open houses. Homes are drawing multiple offers. Properties are going for more than asking price.
We're talking about homes for rent, not for sale, though the inventory of homes for sale in Phoenix is low, too.
Post continues below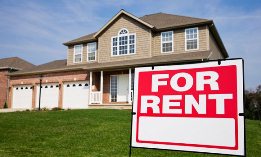 "It's a crazy rental market right now," Liza Asbury of Realty One Group told The Arizona Republic. "There are multiple offers for properties. If it (the home) is nice, it is definitely going fast."
A number of factors have converged to create a market in which an abundance of renters are competing for scarce homes, The Republic reports. Homeowners who suffered foreclosures are looking for places to live. Those who might otherwise buy are scared off by what happened to the neighbors as they watched home values fall 60%. And as the overall economy improves, people are moving to Phoenix for jobs and young people who had been living with relatives are looking for their own places.
The Republic tells the story of Greg Gale, a loan officer, who went all out to secure a rental home. To get the 4,600-square-foot Scottsdale home he wanted, he wrote an emotional and personal cover letter to go with his application, complete with photos of his children. He got the house.
The market for homes to buy is hot in Phoenix, too, as investors snap up homes to use as rentals. In July, nearly a third of the single-family homes purchased were slated to become rental property.
There historically has been a shortage of affordable rental properties in many cities, particularly for people at the lowest income levels. But in some cities such as Phoenix – and Peoria, Ill. – there is also a shortage of middle-income homes for rent.
"It's a very tight market. It's been tight before, but never like this. I don't see it easing up," Shawn Hayes,  managing broker for Principle Property Management in Peoria, told The Peoria Journal-Star. "We've been 100% full at both of our complexes since May. We're all building more units because we don't see it easing up."
FIND YOUR DREAM HOME OR APARTMENT
msn real estate is social
WHAT'S YOUR HOME WORTH?
HOME IMPROVEMENT PROFESSIONALS
more on msn real estate