Builder confidence hits 6-year high
Prospects for new-home sales reach 'good' territory for first time since the housing bust.
Post begins below video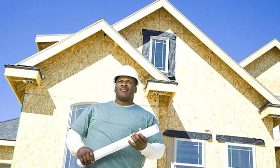 For the fifth straight month, U.S. homebuilders reported feeling more confident about home construction and the housing market, according to a report released today.
The National Association of Home Builders/Wells Fargo Housing Market Index reached 40 in September, up from a 37 rating in August and the highest reading since June 2006.
The index measures "builder perceptions" of home sales and buyer activity; a reading of 50 or higher indicates that more builders feel the market is "good" than feel it is "poor."
Of particular note is the index's component measuring builders' expectations for home sales in the next six months. In September, that reading hit 51 — the first time it has topped the "good" side since early 2007.
Today's report echoes similar sentiment from August, when NAHB chief economist David Crowe noted that housing may be back to "leading the economy out of recession." Crowe's remarks in the NAHB press release today:
Builders across the country are expressing a more positive outlook on current sales conditions, future sales prospects and the amount of consumer traffic they are seeing through model homes than they have in more than five years.
Builder Toll Brothers, for instance, has reported the "most sustained demand" it has seen in the past five years, CEO Doug Yearley said in a recent earnings call, per Bloomberg.
Yearley and Crowe, however, also said that they remain cautious in their optimism. Declining existing-home inventory, which also is keeping home prices up, may be turning more buyers toward new homes over older ones. But that may not be sustainable, considering how seasonal factors and simple housing makeup may suppress a long-term new-home boom in colder, older cities. Realtor.com today, for instance, reported that home-price increases have not yet hit Rust Belt cities such as Milwaukee and Toledo, Ohio — where an aging housing stock and weak job market have led to year-on-year price declines.
Regionally, all four areas tracked in the NAHB index registered a monthly increase.
Midwest: Up five points to 40.

West: Up five points to 43.

South: Up four points to 36.

Northeast: Up two points to 30.
— Tony Stasiek is a producer/editor at MSN Real Estate.
FIND YOUR DREAM HOME OR APARTMENT
msn real estate is social
WHAT'S YOUR HOME WORTH?
HOME IMPROVEMENT PROFESSIONALS
more on msn real estate