Report on pending home sales spurs recovery talk
Index of homes under contract in March reaches highest level since April 2010.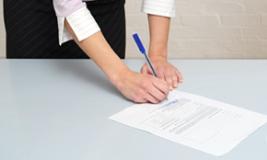 Stop us if you've heard this before: Positive news about pending home sales in March has brightened the outlook for coming months.
The National of Association of Realtors' Pending Home Sales Index came in at 104.1 in March, up from 97.4 in February and 89.9 in March 2011. The index tracks homes under contract, not actual closings.
With the index at its highest level since April 2010, NAR chief economist Lawrence Yun predicted increases for sales of existing and new homes in coming months. In March, existing-home sales were down 2.6% from February, and new-home sales were down 7.1%.
Post continues below
Still, in a news release, the NAR was quick to note signs of a "recovering" market. From Yun:
"The housing market has clearly turned the corner. Rising sales are bringing down inventory and creating much more balanced conditions around the (country), which means home prices will be rising in more areas as the year progresses."
Truth be told, positive conditions still exist for homebuyers. Home prices decreased in 16 of the nation's 20 largest markets in February, according to the S&P/Case-Shiller Home Price Index, released this week. Nine of those cities reached post-recession lows. Also this week, mortgage rates on 30-year loans neared their record low by hitting 3.88%, down from 3.9% last week, Freddie Mac reported. They have hovered near that level for some time.
Then there's the highly scientific barometer of nice weather. As The Associated Press notes, an unseasonably mild January and February may have attracted more buyers in those traditionally down months — stealing some thunder from March and April, when activity usually picks up.
But today's pending-sales news could indicate that those buyers are hanging around, says Yelena Shulyatyeva of BNP Paribas, according to MarketWatch. "Therefore, record warm weather likely had a positive effect on pending home sales in March, which, consequently, could be reflected in existing-home sales in April or May, pulling demand forward from the summer months," she said in a note to clients.
Index changes varied by region in March.
Northeast: The index fell 0.8% to 78.2 in March, but was up 21.1% from March 2011.
Midwest: The index decreased 0.9% to 93.3, but was 16.9% higher than last year.
South: The index increased 5.9% to 114.1; that was a 10.6% increase from last March.
West: The index was up 8.7% to 108, which is 9% above last year.
— Tony Stasiek is a producer/editor at MSN Real Estate.
FIND YOUR DREAM HOME OR APARTMENT
msn real estate is social
WHAT'S YOUR HOME WORTH?
HOME IMPROVEMENT PROFESSIONALS
more on msn real estate