What's making a stink in your sink? It may be your P-trap
As warm weather and vacation season near, ensure that water evaporation isn't breaking the seal under your sinks and tubs.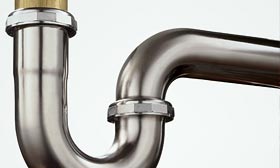 Most of us don't live in a sewer.
But sometimes, when we return home after a long vacation, our ground-floor bathroom inexplicably smells like one.
Or we find that all the air fresheners in the world cannot cover the unpleasant odors in our vacant investment property.
One solution: Check your P-trap.
Post continues below
You may know the P-trap as the curvy bit of pipe under your sink. Below the drain, you'll notice that the plumbing often forms a half-loop, before heading out at a 90-degree angle.
When this bend is filled with water — as it should be — it forms a seal, helping to stop anything from the other end of your drain-vent-system from coming up the other way. Just like that, your sink or tub is protected from nasty, noxious sewer gases floating through your plumbing and into your living space.
U.S. plumbing codes require P-traps in every drain opening. The codes also specify the proper angles and materials for the traps; they can differ in other countries.
Over time, however, the water inside P-traps can evaporate, breaking the seal and allowing these fumes to stink up your place — or, in extreme cases, explode.
As we near warmer months and may plan to leave town for an extended spring break, it may be wise to run the bathroom sink a bit before any long absence. It could be a task for whoever is watering your plants or looking after your place while you're gone.
Popular Mechanics recommends pouring boiling water down these drains weekly, to prevent clogs, as well.
A trap primer, which adds water to traps that don't see regular use — think basement or garage drains — also could be an option.
The P-trap gets its name from its shape, which also resembles a J. And just in case your mind wandered in this direction: Toilets typically do not have P-traps. If you suspect there is a septic-system odor emanating from your toilet, it could be coming from an improperly installed toilet flange, which mounts your toilet to the floor, or a leak in the wax ring that seals the flange to the toilet bowl.
— Tony Stasiek is a producer/editor at MSN Real Estate.
FIND YOUR DREAM HOME OR APARTMENT
msn real estate is social
WHAT'S YOUR HOME WORTH?
HOME IMPROVEMENT PROFESSIONALS
more on msn real estate